About admin
With over 2000 artists, serving as the #1 A&R Portal for up and coming Gospel Musicians, GospelCity.com, since 1999 powered by GospelEngine.com, is a rapidly growing Interactive Christian Inspirational Music Portal Serving as a Single-Source Global Community Destination for Diverse Information, Video and Music Exclusively featuring: Gospel, Contemporary Christian, Gospel Reggae, Jazz Gospel, Holy Hip Hop, and Christian Rock.  For More Information on Gospel Engine or to access, click here:   GospelEngine.com   -   or click/copy/paste the following link in your web-browser:   http://www.GospelEngine.com    
Followers:
GospelEngine Artist Spotlight - January 2017 - Traces Gospel Choir

2017-01-15
By: admin
Posted in: site news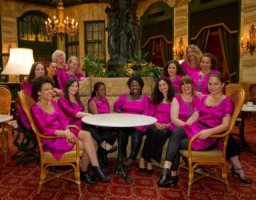 About Traces Gospel choir
Traces Gospel Choir, so named because the members can "trace" their roots to so many different backgrounds (African, European, Scandinavian, American, Indonesian, Sami and more), started in 2006 with 10 members, and has now grown to a 18 member woman's choir. After a year practicing and recruiting members, Traces began performing in public, and people began to recognize the warm and slightly rough "American" sound the choir had in contrast to many other gospel choirs in Norway


Traces Gospel Choir has collaborated with a wide range of artists, including Magnolia Jazz Band, Karpe Diem, Trine Rein, Ost & Kjex, Rune Andersen, Espen Beranek Holm, Otto Graf, Odd Børetzen and Wenche Myhre. The choir has appeared on television and radio, including God Morgen Norge, NRK TV-aksjon 2010, and 21 August 2011 at the Memorial Ceremony in Oslo with Karpe Diem on the song "Tusen Tegninger". In November 2011, Traces finished its fifth season performing at the "Gospel Brunch" at Rica Victoria Hotel in Oslo, together with their regular band Einstein.
Tags