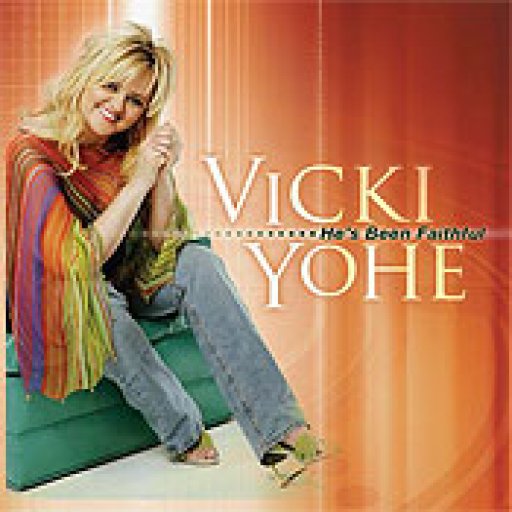 About VICKI YOHE
Vicki was born in a minister's family, where she wrote and sang her first song at the age of 5. At the young age of 17, Vicki entered Jackson College of Ministries. After two years of college, at age of 19, she accepted a Music Director's position near Baton Rouge, LA., and it was during that time that Vicki recorded her first project, Vicki Yoh'e.

Since that debut recording, requests for concert services increased to the point that Vicki sensed God was leading her down a new path of ministry. In 1994, Vicki entered into a recording agreement with the independent label, GIANT Records, where she released three projects that included such hits as "The Mercy Seat", "Under The Blood," and "Something About My Praise"

After her season with GIANT, Vicki recorded two projects with Aluminum Records, which included her holiday release Christmas Presence and Beyond The Song. In 2002, she signed a new recording agreement with Purespring Gospel, a CeCe Winans company. Her debut release I Just Want You, includes the hit Because of Who You Are, which earned Vicki her for first nomination for Gospel Music's Dove Award. A New release with PureSprings/EMI is scheduled for late summer 2005.

Aside from the many services that Vicki ministers in every year, she is now making time for missions work in her ministry. Annually, she spends several weeks ministering in various parts of Africa, Europe and Asia. More importantly, Vicki Yohe Ministries is making plans to open an Orphanage in Uganda Africa.

Today, Vicki lives in the Nashville, TN area with her husband Troy & nephew Houston.

Vicki has ministered in song along side some of today's well known pastors and evangelists, such as Bill Winston, Juanita Bynum, Benny Hinn, TD Jakes, Kenneth Copeland, Creflo Dollar and The Brownsville Revival team. Her own ministry brings a powerful message through song and the word to thousands of people throughout the nation and around the world, during her over 150 concert services and numerous televison appearances every year. Today's Christian music is helping to make the knowledge of Christ accessible to a whole new generation, and Vicki feels blessed that God has allowed her to be one of His vessels.

stats: