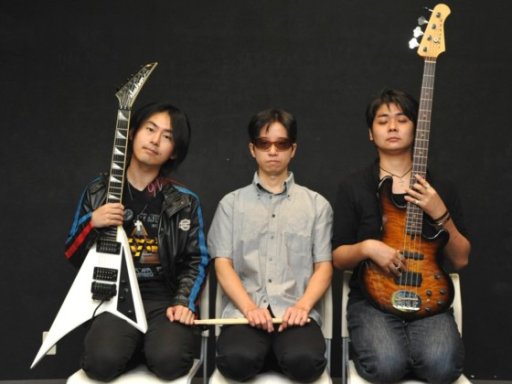 About IMARi ToNES
MARi ToNES is a Christian rock band from Japan.
It started as Tak Nakamine's personal music project and was formed as a band around 2004.
They played local gigs constantly around Tokyo while recording many songs and albums independently.

In 2006, they were invited to come to Germany and recorded several songs with Sascha Paeth, a renowned heavy metal producer who was known for his works with Angra, Kamelot, Edguy and Avantasia.

In 2008, they found FAITH and became a Christian rock band. They called themselves "The first Christian heavy metal band from Japan". Since then they started singing about Jesus Christ, trying to change the spiritual situation in Japan.

In 2009, they toured in USA for the first time and played clubs and churches in Texas, Arkansas, Tennessee, Georgia, New York, and Washington state.

In 2010, they toured in USA again and played clubs and churches on East Coast. They also played Millennium Music Conference in Harrisburg PA.

In 2011, they did their 3rd tour in USA and played clubs and churches around USA, as well as the Christian music showcase/conference called The Objective in Nashville TN.

In 2012, they joined The Extreme Tour, a Christian missionary tour in USA, and played free shows for kids around North West region. They played at churches, skateparks, schools, juvenile detention center, as well as X-Fest in Stevenson WA and Nuart Block Party in Moscow ID, where they opened for a Grammy nominated band After Edmund. Imari Tones became the first Japanese band ever to join The Extreme Tour.

In 2013, they brought The Extreme Tour to Japan for the first time. They toured in Japan with other Christian bands from USA&Canada.The first ever Extreme Tour Japan played Yokohama, Kawasaki, Urayasu, Funabashi, Iwaki, and Ishinomaki town. They connected with many people and had a strong impact on Japanese Christian community.

Imari Tones is standing in a very unique position in Japanese music scene, not only playing for both secular and Christian audience, but also playing for both domestic and international audience.

Slowly but steadily, they are having an impact on today's local and global music scene.

One thing certain is Imari Tones is one of the few bands who sing Christian message strong and clear in Japan, where many people still don't accept Jesus.
Influences
Van Halen, Stryper, Rush, Loudness
stats: