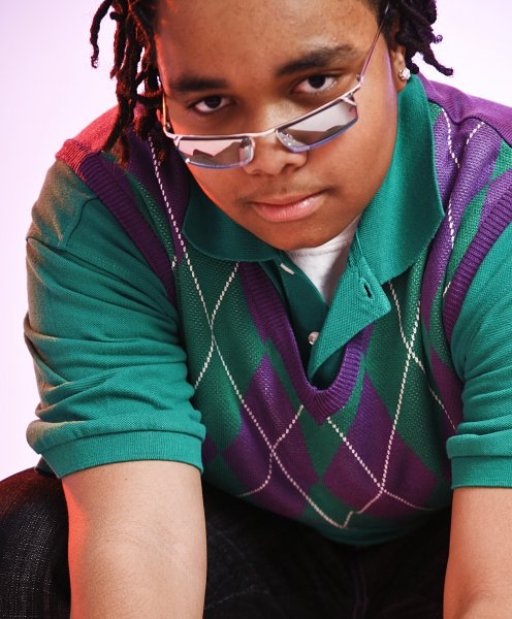 About Young Prayzr
13-Year Old T-REP, which stands for (Tony - Representing Everything Positive) aka The Young Prayzr is an award-winning multi-talented national recording artist. He is also an actor, model, TV/Radio/Event Host, youth speaker, voice over talent, worldwide magazine columnist, and CEO/Entrepreneur. God has blessed this young man to have accomplished more in 4 years then many do in a lifetime; and this is just the beginning.

He's the 2007 Atlanta Youth Gospel Entertainment Awards Winner (Best Male Hip Hop Artist) and 2008 Nominee; Top 3 Finalist for the 2007 Gospel Choice Awards (Best Hip Hop Artist); Top 10 Finalist in the Atlanta 2007 McDonald's "The Gift" Youth Inspirational Talent Competition; 2009 Holy Hip Hop Music Awards Honoree; 2008 Youth Gospel Choice Awards Nominee (Best Hip Hop Artist). At the age of 10, T-REP won 1st Place in the 2006 Ruben Studdard F.A.M.E. Teen Talent Competition. His music video for his hit debut single "Hittin' Dem Streets!" won Best Music Video of the Year at the 2007 Urban Mediamakers Film Festival and has been featured on several television show countdowns, including "Stir It Up TV". He has been an official freelance magazine columnist for Dr. James Dobson's Focus On The Family "Clubhouse Magazine" for 2008 and now again for 2009. This magazine is distributed worldwide every month to over 130 countries.

T-REP The YP is featured on 12 popular compilation and/or mixtape projects, including the Holy Hip Hop Vol. 4 "Taking The Gospel To The Streets Vol. 4" (distributed worldwide by EMI Gospel); The "Holy and Crunk Vol. 1" (distributed worldwide by Sony BMG); DJ Lace's Positive Mixtape Series Vol. 1 & 5; DJ Fresh's Mixshow #46; The "Atlanta Gospel Music Industry" Seminar Mixtape; "Hollywood 2 Holywood Mixtape" (distributed by The GodFear Movement in California); The "Sleepy Steve" TV Show Soundtrack; The Cayman Rules TV Show "Best Friends Forever" Soundtrack; The Kidz Connect TV Show Soundtrack; The Literacy Leadership's "Make Your Own Break Project"; two mainstream/secular mixtapes where he was the only gospel artist featured. The first was distributed by Pretty Smile Entertainment and the second titled "Hip Hop 4 Life" distributed worldwide by Illumina Records. He also released his very own independent debut music project "Here Comes The Young Prayzr", which was recorded at ages 9 & 10.

This young phenom has shared the stage at events along with major recording artist, actors, comedians & political figures such as Kirk Franklin, Dr. Bobby Jones, Tye Tribbett, Karen Clark Sheard, Kirk Carr, Melvin Williams, Byron Cage, Dorothy Norwood, Albertina Walker, B. Chase Williams, DeWayne Woods, Deitrick Haddon, Kiera "Ki Ki" Sheard, Jeff Majors, Canton Jones, Troy Sneed, William Murphy III, Trin-i-tee 5:7, Kurtis Blow, Da Truth, Cee Cee Michaela (of UPN's Girlfriends), Debra Killings, American Idol Winner Ruben Studdard, American Idol Finalist's Kimberly Locke & Kinnick Sky, Olympian Dominique Dawes, America's Top Model Eva Pigford, Gov. Sonny Perdue, Mayor Shirley Franklin, Rev. Al Sharpton, Co Co Brother, Darlene McCoy, The Anointed Pace Sisters, Papa San, Flame, Bonecrusher, Charles & Taylor, Christopher Lewis, Denise Clark, V-3, T Haddy, CAJO Family, Lisa McClendon, IROCC Williams, Tarrlyn Ramsey, Edward Long, Sean Simmonds, Claude Deuce, Shei Atkins, Mark J, Mr. Del, Pettidee, Platinum Souls, Urban D, Mason "MASE" Betha, Grandmaster Caz, One Chance (of Usher's Label), Rock City (of Akon's Label), Jacob Latimore, Gorilla Zoe, DG Yola, Yung Gutta, Jeff Sparks (Jazz artist), and popular comedians such as A.J. Jamal, John Gray, Jonathan Slocum, Willie Brown & Woody, Pierre' (of Def Jam, BET, HBO, B.A.P.S., How To Be A Player, etc.), Marcus "Bishop Secular" Wiley (of The Yolanda Adams Morning Show), Zooman and Griffy 2K & many more.

T-REP The YP has had over almost 500 performances just since August of 2005 (when he began performing at the age of 9), including an impromptu performance requested by Kirk Franklin himself. He has performed as a featured artist on Ambassador Dr. Bobby Jones' Gospel Presents Televised New Artist Showcase;Bobby Jones' Birthday Celebration, The 2007 Gospel Choice Awards; The 2007 & 2008 Holy Hip Hop Awards; The 2008 Youth Gospel Entertainment Awards; Bishop Paul S. Morton's 2008 Full Gospel Baptist International Convention, Ricki Brooks' 2007 Gospel Fest; Pastor Jessie Curney's 2008 & 2009 Star Struck Resurrection of Comedy Night; Pastor Jasper Williams' Salem Bible Church 2008 Youth Conference, Pastor James Battle's Divine Faith's Backdraft Youth Explosion; Stir It Up TV Show; Cynthia & Friends TV Show, Bishop Eddie Long's 20th Anniversary Celebration, New Birth's 4th of July Family & Friends' Celebration, Pastor Andre Landers' New Birth South Youth Lock In and many more.
T-REP The YP has also been bitten by the acting bug. He has played lead roles in three hit inspirational stageplays, "Can You Keep A Secret", "Be Careful What You Pray For" and "Speak, I'm Listening" (Written, Directed, Produced & Starring Tyga Graham of Tyler Perry's "I Can Do Bad By Myself" and the R&B group "Silk"). He has appeared on Cartoon Network's "Cartoon Fridays" Series on shows that featured Nick Cannon, Jesse McCartney, Da Back Wudz, Plain White T's, Jibbs & Sammy. He played a lead role in Lantawood Films' full length movie "Gangland" where his original song "Why Is Life So Hard" was also featured. He has played lead roles in TV Show Pilots for "Cayman Rules – Best Friends Forever" (including the Music Video), "Talent Clubhouse for Kids and Teens" and "Kidz Connect" (including the Music Video). He also played the lead character as Voice-Over Talent for the animated cartoon series TV Show Pilot for "Sleepy Steve" (including the commercial & soundtrack).

He has received performance, acting and modeling development & training from the Millie Lewis Actor's, Models, and Talent Competition (AMTC); Voice Training from Robert "RAab" Stevenson (Lead background vocalist for R&B superstar Justin Timberlake and Voice Trainer for the hit television series "The Singing Office"). He's also received dance, modeling and acting training from AGI (Anointed Gifts Institute) and more acting classes from Clayton State University, and The Talent Clubhouse For Kids/Teens.

T-REP The YP has hosted and emceed TV, Radio and Events such as "The Cutting Edge Kids Talent TV Show"; YP's Crunk House Worldwide Online Radio Show; Talent Clubhouse's "Talent TV For Kids and Teens" TV Show; "Let's Talk Kids Stuff" TV Show with The Atlanta Child Care Guide; Co-Hosted as a guest with Co Co Brother on The Spirit of Hip Hop Radio Show.

With a passion for Community Service T-REP The YP has volunteered his talents and time since the age of 10, supporting many efforts including Hosea Feed The Homeless and Hungry Thanksgiving Dinner; Hosea Williams' Children's Christmas Celebration; Celebration of Life For Atlanta's Missing and Murdered Children; Clayton County Boys To Men Mentorship Program, and more.

This young entrepreneur has quickly developed a business minded mentality and is now CEO of DJ T-REPz Music Faktory Mobile DJ Company, He recently received his first major sponsorship from Nissan. He also connected with one of the hottest Christian clothing line designers Pro Phat Will of "Like Christ Wear" and helped T-REP The YP to launch his very own clothing line branded "M.V.P. Wear" (Most Valuable Prayzr Wear). He also serves as CEO of "Young Prayzr Ministries".

T-REP the YP continues to stay humble and to work hard at remaining an Honor Roll and Gifted Program student, and was voted as an Officer for the National Jr. Beta Club, plus he sings in his school's Honors Chorus. He wants to continue his music career and expand even more in the areas of acting, modeling, and possibly even filmmaking and music production. His career goal is to one day become an Entertainment and Sports Attorney. His overall mission in life is to reach his generation and all generations with his music and many other talents,. Letting them know that "It's Cool 2 B A Christian!" We already know that when it comes to T-REP The Young Prayzr…FAVOUR IS ON HIM, DREAMS DO COME TRUE AND PRAYERS ARE DEFINITELY ANSWERED TOO!
Followers:
stats:
Headshot - Freelance Model & Acting Contract Winner
Here's one of the winning photos for "Best Child Talent" that won YP his Freelance Modeling & Acting Contract with the National Casting Board and Model Productions of Atlanta.
Tags