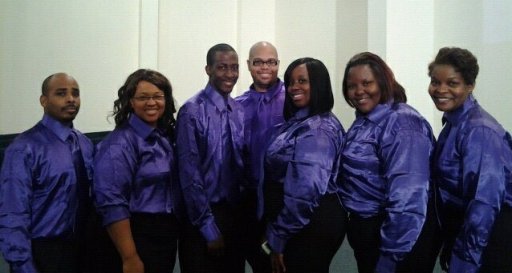 About SANCTIFIED HARMONY
  SANCTIFIED was established in January of 2003 under the leadership of (CAMA AWARD WINNER)  Marcus Garrett and signed to A. R. RECORDS in June 2004.  SANCTIFIED is a professional christian ensemble with a wide range of vocal ability and stage presence.
  SANCTIFIED writes and performes their own music, sing traditional and contemporary christian and gospel and can personalize the performance for any occasion. 
  SANCTIFIED released the first CD "I Can Feel The Spirit", in 2005 with a music video of the song "When The Morning Comes" in 2006.  The second CD was released in 2008 called "All Aboard !!".
SANCTIFIED was chosen out of over 400 artists in October of 2008 to be on a tribute compilation CD for DR. MARTIN LUTHER KING, JR. !!!  The song "I Shall Not Be Moved" is featured on this wonderful charitable double CD and is available on this website:  www.thedreamcontinued.org    
  SANCTIFIED performs at concerts, weddings, church  musicals, minister appreciations, retirement and graduation ceremonies, singles-marriage seminars, open house ceremonies, and festivals.
Followers:

stats: