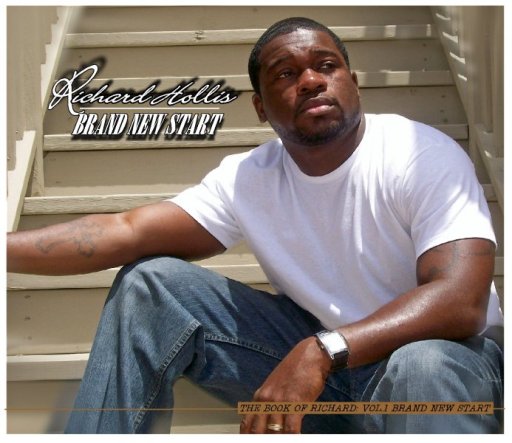 Over Richard Hollis
About Richard Hollis
Soulful, anointed and musically motivating are just a few of the words that come to thought when describing singer-songwriter Richard Hollis. Blessed with a refreshing voice and the gift to pen songs in a unique and invoking manner, Hollis is truly one of the most captivating talents to appear on the independent gospel music scene in years. His music ministry reaches far beyond the walls of the church and flows into the streets, jails and shelters of our urban communities captivating the youth in a very and transparent and heart-warming way.
A native of Houston Texas, whom at a young age knew his journey through life would be different, Hollis has devoted the last 7 years of his life to evangelizing the youth of America through his music and testimony. Being the son of a pastor, Richard has been in and around the church for a great deal of his life, but after seeing and experiencing some of the hypocrisy; pain and anger led him to loose sight of his calling. After several years of alcoholism, promiscuity and riotous living, that came along with the life of an "r & b singer", Hollis found himself in Manhattan, New York. After many failed attempts, Hollis and his group were on the verge of stardom when God himself "yanked" on the reigns of Hollis' mind. With a record deal insight, the Spirit of God began to break up the folly ground in his rebellious heart and the tears began to flow. The Lord was calling His "prodigal son" home. Hollis feels favored to have been touched of God before he made one of the biggest mistakes of his life.
Now back on track and focused on fulfilling his purpose, Hollis has accepting his call to the ministry and has been blessed to begin his music journey anew. With the clear understanding that he has been chosen to proclaim the word of God, his heart is set on ministry and not "the industry." He feels blessed to have been chosen and embraces the next chapter of his life with the release of his debut album Brand New Start.
Featuring 13 soulful, yet intimate tracks, Brand New Start takes its listeners on a musical journey that will personally touch all in some area of their life. Co-produced and written by Hollis, this album offers the message of Jesus Christ on a personal and testimonial level. From the high energy street anthem and title track "Brand New Start" to the personal message of the good news in "Jesus Saves", one can here the soul-stirring life changing message of Jesus Christ in every song. Throughout the powerfully produced music the message and purpose is clear... God can and will give you a Brand New Start. Says Hollis, I pray that everyone who hears any song from this album, will receive hope and faith. Most importantly, I pray you find JESUS CHRIST.
Search Google- Richard Hollis Brand New Start
Invloeden
Glen Jones, Dave Hollister, Jodeci
Recent een cijfer gegeven:
statistieken: