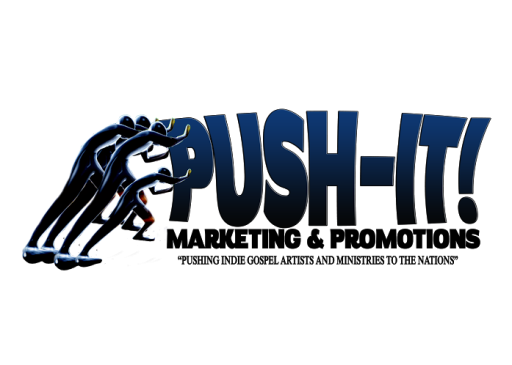 About Push-It! Promotions
*30+ Year Music Industry Veteran, President & CEO/Push-It Marketing & Promotions
Bruce Calvin is a WELL RESPECTED, WELL CONNECTED, music industry VETERAN that began his music industry career in working with an independent record distributor in Detroit, which distributed local and national recording artists to various record stores in the mid-west region. He became the first African-American Salesman in Detroit for ABC-Dunhill and held additional sales positions with MCA, Phonodisc and Polygram Records soliciting new releases of various musical genres to include: Gospel, Jazz, R&B, Country & Western, Classical and Top-40. His accounts included various retailers, wholesalers and one-stops.
He advanced in his sales career to multiple chain retailers and soon was responsible for corporate clients such as Handelman, Wal-Mart and K-Mart.He landed promotional responsibilities with the legendary Casablanca Records. His mentors Jeryl Busby, Ernie Singleton, Rubin Rodriguez and Cecil Homes encouraged him to expand his knowledge of other areas and relocated to the southwest region of Texas, Louisiana and Oklahoma. His artist roster has included: Inez Andrews, The Five Blind Boys, The Mighty Clouds of Joy, The Jackson Southernaires, Michael Henderson, Phyllis Hyman, Gladys Knight, Norman Connors, John & Alice Coltrain, Pharaoh Sanders, Donna Summer, Village People , Bobby Blue Bland, B.B King George Clinton and Parliament Funkdelics, Curtis Blow, Steeley Dan, The Bee Gees, The Fat Back Band, Joe Simon, Con-Funk-Shun, Kurtis Blow, The Goon Squad, The Ohio Players, Platypus, Kool & The Gang, The Gap Band, Cameo, The Bar-Kays, Loretta Lynn, Pavarotti, Steely Dan, Three Dog Night, Kiss and helped most of them to sell in excess of one million records each!
He returned to Detroit and was appointed National Director of Promotion and Marketing for Crystal Rose Records a Detroit based gospel label founded by Detroit Attorney Benjamin Whitfield, Producers Michael Powell, Donald Lawrence and Brian Spears. They have recorded such artists as Donald Lawrence & The Tri-City Singers, Ricky Dillard and New Generation, The Thomas Whitfield Company, Chris & Kyle, Gabriel Hardeman, Rodney Posey, Twinkie Clark & The Florida A & M Gospel Choir and Brenda Waters. Bruces' expertise and network abilities have enabled him to work with the most influential people in the entertainment industry today. His collaboration with other record industry moguls has opened the doors for many up and coming recording artist in areas of promotion and sales in various markets. He identified the need for Independent Gospel Artists to market themselves though his internet marketing and promotions firm, formerly known as Push-It Marketing & Promotions!  
As a Consultant, he provides various services by developing promotional marketing plans and strategies to generate airplay, retail sales, identify distribution sources and provides performance opportunities at various churches, Gospel venues and multi-media outlets such as television and radio. Bruce has also served as Talent Coordinator for the "Gospel Superfest" Television Broadcast, Executive Produced by Dr. Bobby Cartwright. Over the years, he has managed various duties for artists such as: Aretha Franklin, Candi Staton, The Clark Sisters, Carnell Murrell, Zak Williams & 1/Akord, Leanne Faine, Ason, and Psalmist (Pastor) Doris Stokes, Carnell Murrell, Carl B. Phillips, Treva Jones, Jason Bethel, The Williams Singers, Jai Reed,  and Moses Tyson, Jr..Most recently he has catapulted several artists into Stellar Gospel Music Awards Nomination OR Winner statusincluding: The Gospel Skate Jam Series, Marcus Cole, Jai Reed, Derrick Starks, Marvin Winans, Sr., Moses Tyson, Jr. and Beverly Crawford.
Push-It Marketing & Promotions offers a variety of Marketing and Promotions services at the most reasonable rates ANYWHERE:
*Consulting Services for:
*Recording Artists 
*Authors 
*Movie Premiers 
*Gospel Stage Productions 
*New Television Shows 
*Radio and Cable TV Advertising Placement
*New Radio Show Launches, etc. (all media)
*Grand Openings for New Church Ministries
*Professional Marketing Plans
*Press Releases
*Official Website Development
*Social Media Setup, Structure & Presence
*Articles
*Artist Branding
*CD/Song Tracking Services
*60 Second Commercial Spots
*Biography creation/editing
*CD/DVD UPC Bar Codes
*Artist EPK's (Electronic Press Kits)
*Discounted Eblast Services for Members
*Eblast Services for EVERYONE
*Discounts with Push-It Business Alliances
*The BEST Membership Benefits Package Anywhere!
*Performance Opportunities at Push-It Sponsored Events (Showcases)
Independent Gospel Artist or their Management may Contact me for ANY of your Professional Marketing & Promotional Service needs at:
Email: pushitmarketingandpromotions@gmail.com
Phone: (313) 207-5786
Followers:


@push-it-promotions
• 7 years ago
The Dorinda Clark-Cole LIVE recording has been postponed to a later date next month.. If you ordered tickets online at Eventbrite or even purchased tickets in Memphis you will receive your full refund..
Should you have any questions or concerns..call 1-313-784-7334
Thank you for your prayers and support!

@push-it-promotions
• 7 years ago
Push-It! Marketing & Promotions is happy to announce and welcomes Morris Mingo to the Push-It! Artist Roster. His NEW single "A Royal Priesthood" is his debut single from his upcoming project entitled, "The Time of the Minstrel" His music is inspired by biblical principles and the application thereof in life. His music ministry is intended to reach the listener at the heart level and encourage them to pursue their God ordained purpose! The goal is to enrich all those who he ar the music that God has given him. He is seeking to help others identify who they are through his ministry of music and the word. He is a melting pot of many influences included Gospel, Jazz, Fusion, Country, Rock, Funk, Experimental, and Rhythm and Blues. Morris wants to identify with all those who understand the power and authority of music and don't take the gift of music light. His ultimate goal is to cause others to walk in the area that they've been created to walk in!
Radio announcers for product service and interviews contact Bruce Calvin of Push-It! Marketing & Promotions.