About Kristie L. Sibley
K ristie Linley-Sibley is an anointed gospel artist and songwriter with a voice that can "transcend to your heart and minister to your soul." If you look up the meaning of the name "Kristie" you will find that this modern all American name means "Anointed."   What a coincidence that Kristie's parents, Gloria Whitfield-Linley & Hiram Linley were going to name her Kimberly Dawn, but God would have it that her name was changed to a name that was full of purpose and spirit.   As a child, Kristie would entertain herself by using kitchen appliances toys and such to turn into her instant microphones to sing with.   She sang her first solo at church with her cousin at the age of 8 years old.   It was at that defining moment that she knew she could sing and that God had a calling for her life.   Filled with the Holy Spirit at the age of 8, Kristie had a very unique childhood where she was often labeled the "church girl".   Her love for God was manifest by her relentless dedication to pray, read her bible, witness and attend church as much as possible.   Growing up, Kristie would spend countless hours singing unto God even after her family had retired to bed until the wee hours of the morning.   The Godly foundation that was laid in her life early on begin to mold and shape Kristie into a very mature and wise young woman in the Lord.
Still at the beginning of her career, Kristie is pursuing her gift and talent of singing.   Some of her accomplishments are vast as it pertains to her musical versatile, to include gospel; both contemporary and traditional, Negro spirituals and classical music.   Kristie received both formal and informal music training in middle and high school where she made All State Chorus at a state level and was a recipient of honor chorus and district competitions.   She also had the honor of singing at Carnegie Hall with the Georgia Youth Chorale in 1991.
When Kristie entered college, she begin to explore her singing ability on yet another level.   She has served as lead vocalists for both gospel and concert choirs for Albany State University.   People would take notice as Kristie would often lead songs like "Lord Send Your Spirit Down" by Hezekiah Walker with the gospel choir and then turn around and lead serious classical pieces such as "Pie Jesu" (pronounced "peeyae yaezu") (Latin) with the concert choir.   During this period in Kristie's life, she began to accept her versatility as an artist with more than one singing style and genre.   During her college career, Kristie also expanded her ability and became the choir director for Kennesaw State University Gospel Ensemble, Voices of Triumph Community Choir and Victory Life Youth Choir. Her singing experience in college opened up doors for Kristie to go yet to another dimension in her singing ministry.
In 1996, Kristie began to explore the possibilities of a professional singing career.   She joined B. Chase Williams and the Shabach recording choir in Atlanta, Ga.   B. Chase William's "Take A Trip" was a break out song for the radical choir and hit the gospel charts under CGI records.   Kristie was a lead & fill- in vocalist and led such songs as "Crown Me", "Oh, To Be Kept By Jesus", and "On Time".   Kristie also led "There Is No Other Way" on the Atlanta Centennial Mass Choir recording project under CGI Records as a salute to the 1996 Olympic Games.   Such opportunities opened doors for Kristie to become a professional solo artist.                                                                                                             
From 1998-2001, the Lord begin to deal with Kristie about recording her first independent record.   In 1998, Kristie recorded her first demo where she wrote her first song entitled, "Endure".   In the interim period before her CD release, Kristie spent the next 3 years in Germany with her husband Corey D. Sibley, while he served in the United States Armed Forces.   During this time, Kristie allowed God to minister to her in order to prepare her for what was to come.  
In 2001, Kristie returned back to the states and began to write more songs and go in the studio to record her debut 10-track album " Perfect Peace ."   Perfect Peace was released under K Love Music as an independent album in 2003.   As a songwriter, Kristie wrote songs for the CD to include Perfect Peace, Our Father, Endure, Adonai, Faith, Free, & Psalms 51 .   " Amazing Grace " and " Walk With Me Lord " are two contemporary/traditional cover songs on the CD.   The CD also has one instrumental song entitled " Isaac's Joint ."   The music style of this CD offers a platter of music influences such as contemporary, traditional and jazz. The compelling words of Kristie's music propel healing, deliverance and freedom to its listeners. Her fans often express that her music gets them through the storms of life, brings "chills to their spine", helps them to calm down after a hard day at work and is relaxing to listen to.  
From 2003 to 2007 Kristie has traveled and performed in various venues; performing concerts, participating in industry showcases and other special events. Because of Kristie's obedience to the Lord, she is able to sing and sell her CD's at churches and other venues which has led to more opportunities to travel and open up for some of gospel music's greatest performers.   Kristie has opened up for CeCe Winans, Donnie McClurkin, Steven Curtis Chapman, Albertina Walker, Mom & Pop Winans, Percy Gray   (Chicago Mass Choir) & Shea Norman .   She has also recorded as a background vocalist with Gospel Dream's Benita Washington on her debut album "Hold On."   She has performed at the nationally acclaimed Bobby Jones Gospel Industry Retreat .   Kristie has also had the opportunity to perform at the prestigious Trumpet Awards Gala celebration for its founder Xernona Clayton. Internationally, Kristie completed a European Tour in 2003 where she promoted her album and performed in Mannheim, Landstuhl & Frankfurt Germany. Currently, Kristie is still promoting her debut release "Perfect Peace" and performing in various venues across the country.   She is also working on a sophomore cd which is expected to become a nationally acclaimed & recognized project with retail & radio distribution.  
"Kristie L. Sibley's music has been ordained by God for such as time as this.   Kristie not only sings, but she ministers the word of God through song.   When she performs, her music is embodied and delivered in a very prophetic way.   Kristie is very humble and sensitive to the leading of the Holy Spirit. Her desire is to minister to people from all walks of life, nationalities, races & genders. She believes that her calling also involves the purpose of breaking down social, societal, racial and denominational boundaries that would help bridge mankind to God."
Kristie is thankful to God for the gift of singing and other talents that she has been endowed with.

 

Kristie is college educated with a Master's Degree in Human Relations from the University of Oklahoma and a Bachelor of Science degree in Human Services from Kennesaw State University.

 

Kristie L. Sibley is an entrepreneur, a prolific teacher and motivational speaker of various human and emotional issues & behaviors and is also a certified mediator.

 

Kristie is a member of Mt. Zion Baptist Church in Nashville, TN where the honorable Bishop Joseph W. Walker III, is her pastor.

 

 

Kristie is married to Corey D. Sibley who is her manager and business partner and they reside near Nashville, TN in the city of Clarksville.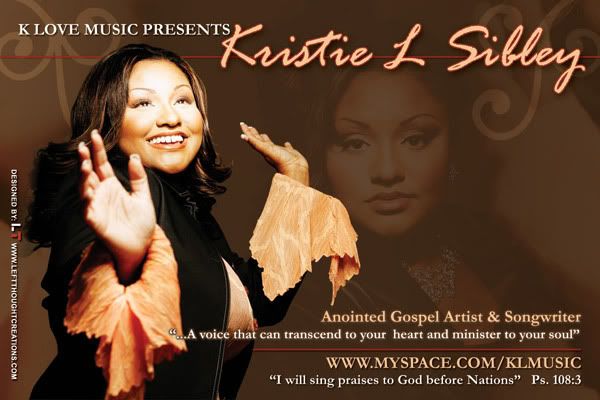 Followers:
stats: