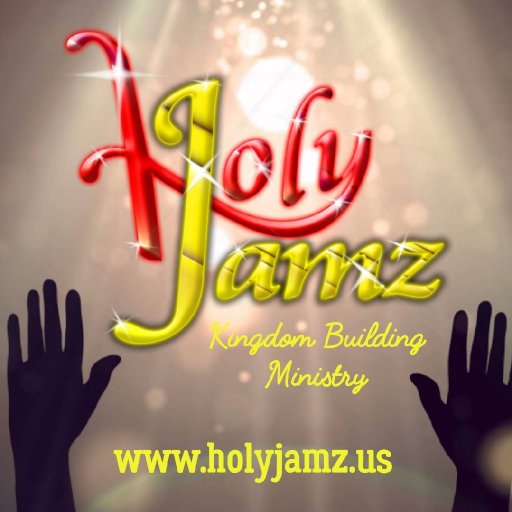 About holyjamz
KINGDOM BUILDING IS WHAT WE DO!  That's Our Assignment! Come JOIN us!
HOLY JAMZ KINGDOM BUILDING SOCIAL NETWORK IS GROWING FAST! BE A PART OF A KINGDOM NETWORK THAT IS FAITH CONNECTED WITH KINGDOM MINDED BUILDERS! PEOPLE WITH POWER & PASSION FOR MINISTRY & KINGDOM CONNECTING!
ARE YOU SERIOUS ABOUT GETTING YOUR MINISTRY OUT THERE? ARE YOU SERIOUS ABOUT KINGDOM BUSINESS? ARE YOU SERIOUS ABOUT REACHING THE LOST AT ALL COST? THEN WHY NOT GET CONNECTED ON A NETWORK THAT FOCUSES ON KINGDOM BUILDING AND KINGDOM BUSINESS?  
Spreading the Word of God through music is a very powerful tool in reaching lost souls and saving lives.  HOLY JAMZ  engages the Community in open honest conversation with audiences and congregations bringing encouragement and sharing knowledge and testimonies of the struggles of daily life as well as providing tools for personal development and spiritual enrichment.
HOLY JAMZ  social network site is a tool which unites Gospel artists of all genres, Gospel organizations, Ministries, DJ's, Christian Clothing, Christian Merchants, Christian Clubs, Outreaches, Music labels, Music Studios, Music Producers, Promoters, Non-Profits, Radio Stations, Churches, Pastors, Multi Media, businesses and beyond together in one location to promote the Urban Christian Culture as well and bring artists together with organizations who are looking to book artists for various events and conferences, labels looking to sign independent artists, and artists looking to promote their music and reach the outside world with the Gospel of Jesus Christ.  HOLY JAMZ  Christian Community is a unique social networking tool which caters to a worldwide audience. Unlike other websites HOLY JAMZ  is a complete one stop location to accommodate everyone's needs worldwide.  IT'S THE CHRISTIAN FACEBOOK FOCUSED ON KINGDOM BUILDING!   Plus you can also WATCH FULL LENGTH CHRISTIAN MOVIES on HOLY JAMZ!
Artists are able to  manage their own booking, marketing and promotions through the website.   Example:  If there is a ministry who is searching for a certain artist or group for an event if that ministry can directly contact the artists and book them directly for their event through the site as well as promote their event as the artist also promotes their music on the site as well. The site is a tool for everyone within the Christian Community to come together in one place From Gospel R&B to Gospel Rap to Choirs, Dance, DJ's, Pastor Sermons to ministries ect to book, market and promote themselves Worldwide catering to the Christian Community. The site just doesn't cater to artist and ministries it caters to the entire Urban Christian Culture, from Clothing lines, Christian businesses who want to market and promote their urban Christian merchandise. There are so many advantages and more features and benefits are coming to the site as we continue to grow. Now is the time to Unite, spread the Gospel worldwide outside the box and without limitations.
MINISTRIES NEED TO BE SUPPORTING EACH   OTHER   SO WE CAN GROW IN UNITY 4 CHRIST IN ORDER FOR US TO COME TOGETHER AS  "ONE BODY"  TO REACH THE WORLD! HOLY JAMZ SITE WAS CREATED FOR THAT PURPOSE!
WE HAVE TO COME TOGETHER AS GOD INTENDED AS "ONE BODY" IN CHRIST "SUPPORTING" EACH OTHER TO COMPLETE A MISSION GOD GAVE US. LETS UNITE AND GET DOWN TO KINGDOM BUSINESS, SO WHAT ARE YOU WAITING FOR? LETS ALL UNITE SAINTS AND GET BUSY! TIME RUNNING OUT! JESUS IS COMING BACK AND THERE IS STILL TO MUCH WORK TO BE DONE TO BE!
JOIN HOLY JAMZ TODAY FOR FREE!
JOIN US TODAY AND LETS KINGDOM BUILD TOGETHER, UNITINGS SAINTS AS ONE BODY IN CHRIST REACHING THE WORLD!  www.holyjamz.us
IT'S ALL ABOUT KINGDOM BUILDING! YOUR ONLY ONLINE KINGDOM BUILDING SOCIAL NETWORK!
JOIN US TODAY!  www.holyjamz.us
Followers: