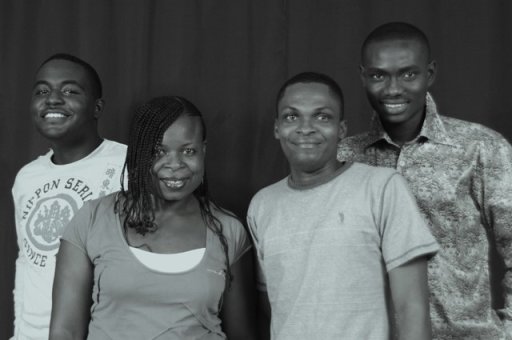 About Hamonycs
 Hamonycs: Hamonycs, a three man group created in February 2004 started out as the brainchild of two young people and grew into a music group whose destiny was aligned with God's purpose for them.Today's music and lyrics are a diversion from moral values in the society, tending largely towards sex, pornography , violence, drug addiction and other garbage used to shame the society. Where morals standards are being lowered daily,  Hamonycs seeks to raise the bar for the quality of music content. Keeping in mind the theory of "garbage in, garbage out", Hamonycs plans to fill its audience with alternative music bringing them closer to 'D perfect place' Since its inception, Hamonycs has been performing and touring together as a group and getting quite popular with live performances. Till date, Invitations are still pouring in to perform at concerts and churches basically as a response to the group's impressive style of singing, which has left its audience gasping for more and in turn has resulted in a high demand for an album.  
Our Objectives: ü  To capture the hearts of our generation by providing alternative and spiritually edifying music that inspires the soul and strengthens character, integrity and faith.ü  Be as it were, heavens alternative role model and mentor to young people and old alike, inspiring them to move closer to God. 
The team:  
[Charles]A vocalist, he has a graded result from the MUSON School of music. He grew up singing most solo's as a teenager in a church choir. He has an unusually high tenor voice with a beautiful lilt to it. His singing has taken him places. 
[Joy]Highly talented in song writing and lyrical composition, Joy's singing has taken her to various countries like South Africa, Cameroon etc. She started singing when she was 12 years old in a local church choir and ever since music has been an obsession. [Gzac]He started playing the piano from the tender age of 10. He is a producer, songwriter and vocalist.   He has a lot of commercial jingles to his credit, including the current FCMB bank advert. He also has certificate from Muson, and he is the Producer of the group. Also Featuring
[Davolino]:A final year student of the Muson School of music, majoring in Violin, He started playing this instrument at the age of 10. He leads the string quartet called The Golden Strings since 2003. Davolino possesses exceptional violin skills, as they reflect in the project. He is also an active member of the Muson orchestra.
Songs:Songs in the album include: [Okaka] [Jericho walls] [Imole] [I believe] [The Reason Eng /French] [Save our Dream] [Stand strong]  
Musical style:[R&B]  [Dance]  [Soul]  [AFRO hip-hop]
Followers: