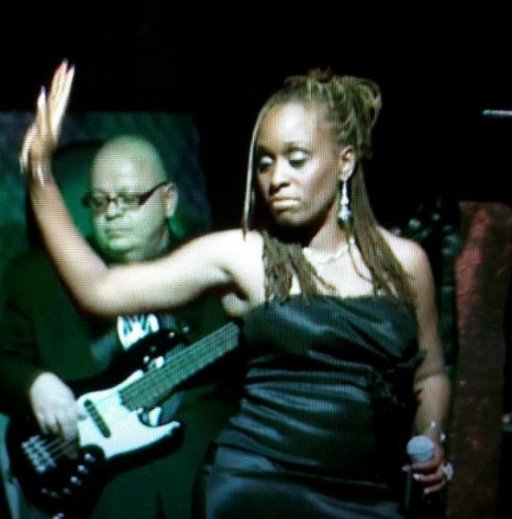 Sobre Yahaloma
Contact Information:

Celebrity Direct Entertainment
PO Box 494314
Port Charlotte, FL 33949
CORD COSLOR
phone: (941) 624-2254 fax: (941) 624- 4522
e-mail: cord@celebritydirect.net
AOL Instant Messenger: CelebDirectEnt
www.celebritydirect.net

Multi-talented, Live Performer and Recording Artist, Yahaloma was born to multi-Platinum, international recording artist, Evelyn Thomas. At a young age, she toured with her mother, dancing, acting and singing on stage and on television in New York, London, Paris, Brussels, and more. Since 1990 Yahaloma has played with bands such as Natures Vibe, and opened up for George Clinton and P-Funk, Shabba Ranks, Mary Mary, and doing many, highly requested, local shows in South Florida and Atlanta Georgia, & Co-wrote an album with The Commodores "Brick House" Walter Orange and Craig Deanto (Child Activist. She has also recently performed at The Queens of the Community in Atlanta Georgia honoring the mothers of celebrity artists T-Pain, Neo, and Little Wayne, for their contributions to the community. Yahalomas music has also been played on Dawsons Creek (Europe).
-Currently on tour with former lead of The Temptations
- New Cd out "Beautiful"
-Honorable mention for "Can't Wait" Billboard World Song 2010
- Featured on Pynkcelebrity.com 2010
-New single released:Yahaloma featuring Carlton Coffie,Lord Metatron, and Keturah Ariel.
-Who Hears the Cries - CD - All the songs - up for 8 1st round Grammy Nominations 2003
Influencias
Her influences are Stevie Wonder, Gladys Night, Smokie Robinson, Michael Jackson, Tammy Trent, DC Talk, Rebecca St. James, Ella Fitzgerald, Evelyn Thomas, Sylvester, Grace Jones, Salvador, T-Bone, Yolanda Adams, Crystal Lewis, Kirk Franklin, Fred Hammond,
Seguidores:

Clasificados Recientemente:
Yahaloma ------ Kim Thomas is Yahaloma and Yahaloma believes in using talent to serve a higher purpose. Entertainment is certainly its own reward but here is an artist that finds profound reasons to entertain. Here is passion for not only music but also its place in the heavens – and for YHWH. Can't Live Without ... ---- Contemporary Hebrew Gospel and inspirational artist Yahaloma embraces music as a need in life, something necessary for existence. For that reason, it is the perfect medium, especially with its unique communicative abilities, for Yahaloma to honor YHWH and spirituality. "I can't live without singing and writing. It is in my blood! I was created with this in my system, and it makes me who I am. I feel that I am doing what I was created to do when I do music." For Yahaloma, music is a YHWH-given talent and the proper respects must be made – all while creating top notch music for the 21st century believer. Prayerful Potency ------- People don't always think of music as praying. But praying is communication with God and music is the great communicator – and it gets the emotions involved. "I always say, 'He who sings, prays twice!'" ... I just love what I do." It's a simple fact. Yahaloma loves music and YHWH and pours 100% into both. Inspiration --------- There's a deep implication for the idea of musical inspiration when spiritually-oriented music is involved. "I am inspired by Abba, Yahweh." Though of course there are connecting influences in the world's realm. "I have many influences, but the biggest is family. They give me the support that has kept me going, even when we couldn't see where we were headed." Work -------- Yahaloma has earned best song of the year acclaim from Eagle Productions for "Not My Will" and made it to the second round of the International Songwriting competition. Thomas began her musical journey at the age of 4, participating with her mother. Within a year's time she had already nabbed a slot as the mini-host on a Manhattan cable series. She was the lead vocalist in Nature's Vibe, who opened for George Clinton and P Funk, She went on to perform with Walter "Clyde" Orange of The Commodores. She has the honor of having been involved with the "Who Hears the Cries' music project, which appeared on the 46th Grammy nomination ballots a whopping 8 times. She is currently working with A&R Select, the leading indie A&R firm in Hollywood, CA. She is at work on her second CD following the success of her first, "No Longer Bound". Visit www.myspace.com/kimthomasramos for more information. Review -------- "Many artists can entertain. Few can inspire." - A&R Select ----------------- Many of life's failures are people who did not realize how close they were to success when they gave up. - Thomas Edison. ------------------- Knowing who you are and whos you are means more in the long run than you would think. Be confident even in the face of uncertainty! - Kim Thomas. For Booking information please email yahaloma@yahoo.com.
Tags