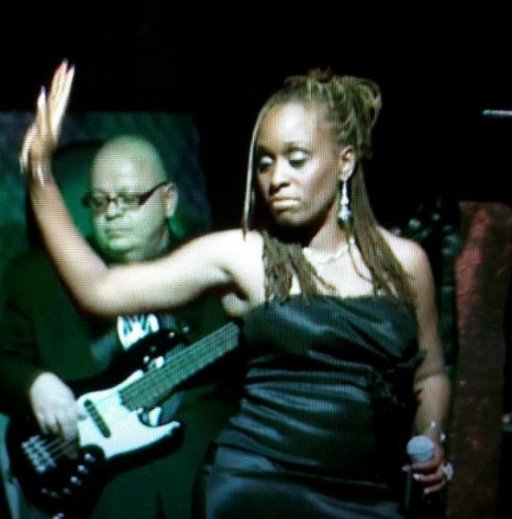 über Yahaloma
Contact Information:

Celebrity Direct Entertainment
PO Box 494314
Port Charlotte, FL 33949
CORD COSLOR
phone: (941) 624-2254 fax: (941) 624- 4522
e-mail: cord@celebritydirect.net
AOL Instant Messenger: CelebDirectEnt
www.celebritydirect.net

Multi-talented, Live Performer and Recording Artist, Yahaloma was born to multi-Platinum, international recording artist, Evelyn Thomas. At a young age, she toured with her mother, dancing, acting and singing on stage and on television in New York, London, Paris, Brussels, and more. Since 1990 Yahaloma has played with bands such as Natures Vibe, and opened up for George Clinton and P-Funk, Shabba Ranks, Mary Mary, and doing many, highly requested, local shows in South Florida and Atlanta Georgia, & Co-wrote an album with The Commodores "Brick House" Walter Orange and Craig Deanto (Child Activist. She has also recently performed at The Queens of the Community in Atlanta Georgia honoring the mothers of celebrity artists T-Pain, Neo, and Little Wayne, for their contributions to the community. Yahalomas music has also been played on Dawsons Creek (Europe).
-Currently on tour with former lead of The Temptations
- New Cd out "Beautiful"
-Honorable mention for "Can't Wait" Billboard World Song 2010
- Featured on Pynkcelebrity.com 2010
-New single released:Yahaloma featuring Carlton Coffie,Lord Metatron, and Keturah Ariel.
-Who Hears the Cries - CD - All the songs - up for 8 1st round Grammy Nominations 2003
Einflüsse
Her influences are Stevie Wonder, Gladys Night, Smokie Robinson, Michael Jackson, Tammy Trent, DC Talk, Rebecca St. James, Ella Fitzgerald, Evelyn Thomas, Sylvester, Grace Jones, Salvador, T-Bone, Yolanda Adams, Crystal Lewis, Kirk Franklin, Fred Hammond,
Followers:

E-3 entertainment signs Yahaloma

2008-02-28
By: kimthomas-ramos
Posted in: Signed
On Febrary 22, 2008, E-3 Entertainment signed Yahaloma to their roster of Artists. Their roster includes, but is not limited to, Take 6, A7, Tiffany Green, Tonya Baker, Andale, and Nashon, just to mention a few.
If you are interested in booking any of these artists, including Yahaloma, please contact them at  their website: E-3 Entertainment. .

Tags