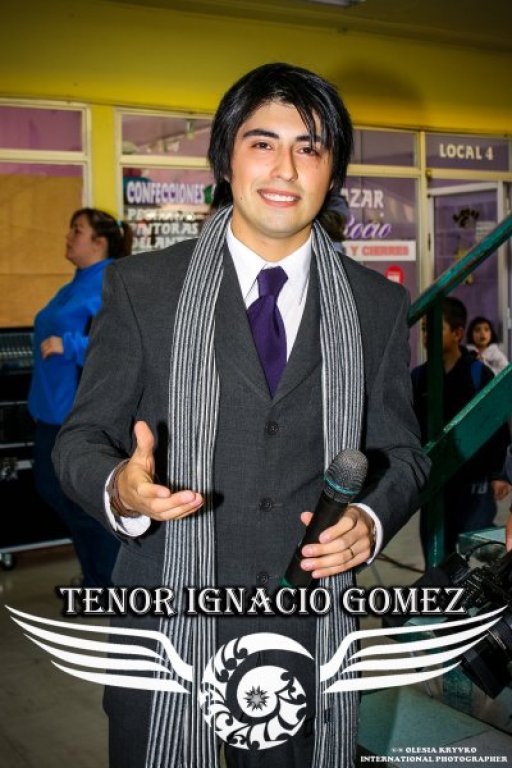 About Tenor Ignacio Gomez
.:Tenor Ignacio Gomez:.
The Official Authorized Biography
By .: 23 Records Entertainment Group
.:Ignacio Gómez:. is Magellan celebrity from the southern city of Punta Arenas, Chile. He is a special singer and artist that spread trough his humanitarian non profit vision and mission, wonderful fresh ideas about build a brand new better world with more justice, more Liberty, more Equality and more Fraternity, to inspire the nations to become a better perfect society, He strongly believes in a new order for the world and a new age of peace when the nations come to be a brotherly day, with less differences and more unity.
His real name is José Ignacio Gómez Urra; he was born on December 22 of 1984. His little innocent body born dead, cold and blue, and to try to save his uncertain chances of living his blood was completely changed, for that reason when this things happen her mother could not saw her baby because the little innocent Ignacio was weak and being reanimated by a team of Doctors. At the same time his mother lift a desperate, angry and humble pray to .:God:. (××××, Jehová,YHWH, Anu, Elohim, Elyón,) She beg to allow his baby live and if YHWH let him survives She promise to consigned Ignacio's life, to educate the child to serve Him in the light.
That's why he was specially carried and protected by his parents, being stimulated to learn beyond the odds of mind. Ignacio began to sing at the early age of 4 years old, and since this time he showed a caring personality linked to the art and spiritual ideas. For example is interesting the particular weird affection that Ignacio shows for the geometrical forms over all for the triangles. Also he likes to build his own toys with wood, he enjoyed his first years painting and drawing penguins, lights, triangles, and eyes, especially he adore draw his imaginary friend a "weird green light energy living form" that he called Vril.
One of the mysteries about his childhood is the fact that Ignacio learn himself to speak formal English, French and Spanish as an native adult but nobody teaches him that way to speak, he learned to read English and Spanish books at the age of 5 years old, but his passion for the music and piano since childhood were notorious even more than read books, Ignacio had a childhood surrounded by musical influences from the freethinker Wolfgang Amadeus Mozart and Ludwig van Beethoven. But what he always prefer was sung with his father and share with him listening The Beatles and Elvis Presley, he learned about how to read music scores and music from an old book of Wolfgang Amadeus Mozart at the early age of 6 years old spending 2 hour at the piano.
He entry into the Elementary school "La Milagrosa" place where he learned in a miraculous and very fast way an ancient secret vocal technique called "the head voice".
On 1994 when he was 10 year old, The smart little Ignacio Gomez record his first CD album called "The Beginning", the album contains 10 songs in perfect English, On his first project you can hear an special recording cover a jazz light version of "Fly me to the moon" and the single "In The Likeness of you" a song that talk about a child that's is praying in the night to seems every day like .:God:. to be a good son always, the most amazing thing about this album was that Ignacio was his own recording Sound Engineer, and also he argument to his parents that he just read for 2 years since he was 7 year old till he was 9 years old the elementary techniques to know how to use a professional studio recording, and well he finally learn, and did a good Job. At this point his parent understand his brilliant mind as treasure for the society and they allow him be the little big man he is.
With his first recordings Ignacio had a great success, making over 20 CD albums for the International Mayor Label "Mperia Records", unfortunately after some years the sells of the label went bankrupt and "Mperia Records" disappeared without leave trace, and no money or earnings for Ignacio.
Despite the bankrupt of "Mperia Records", the situation was not discouraged Him, and Ignacio Gomez decide continued recording with an altruistic Purpose .:. without seeking economical benefits for himself, he develop his music Cd's and DvD's with the private support of freethinkers that believes and work for a brand new better world. Nowadays he share his Cd albums Trough the free source System, Called "Open Source" or "Creative Commons" gifting free access to the netizens for free downloads of his multimedia contents, spreading hope. With that porpoise Ignacio focus his efforts just to give an important contribution to the culture through the art with free downloads of his recordings seeking to give a real good message to the nations of the earth.
Between 1995 and 1996 which ultimately led to be the soloist in the choir when he was 11 years old, later in the year 1998, Ignacio began practicing Piano for 4 hours daily for a period of 2 years with a very old and mysterious green book from the year 1934, with the past of the months the young Ignacio Gomez interpreted perfectly classical popular piano repertoire as "Fuer Elise" by Ludwig van Beethoven, "The Turkish March" by Wolfgang Amadeus Mozart and many others classic hits to.
On 1999 Ignacio Gómez comes to the prestigious high school "Juan Bautista Contardi" (the best of his town and at that time the 5th best high school of Chile between the years 1999 – 2002). This wonderful place to study was managed on his golden decade by the prestigious and respected Mason Mr. José Raul Alvarado Diaz "a successful man with honourable idea for attempts to develop his students into honest, ethical, and charitable members of our society". Ignacio learned music with the Great Maestro Enrique Veiga "a Large Magellan Guitarist, which at its best achievement being the third most talented classical guitarist of Chile", with the Maestro Veiga, Ignacio Improve and learn more about, how to Mix and mastered Music on a recordings studio, also he learn about how to play technically the Drums, Electric Guitar, Classical Guitar and Bass. When he was finishing the High Scholl with the help and advices of the Maestro Veiga he composed ten love songs for his unplugged eighth official CD Album "Vivencias" a nice light music project with Latin love songs.
From 1999 to 2000 the young teenager become a part of a selected group of young artist Called "UZIEL" Uziel was founded by Cecilia Rojas and Solage Sanchez, bouth Christian woman who felt the wish to help other people trought the arts. In this step of the Ignacio's life, he learned the diffucul mimos art, acting, coregraphy, theatrical classes and even more.
Then Around the year 2003 his voice was re-discovered by the Magallean Folklorist Mr Robert Ijerra, a nice nobleman who introduce Ignacio with his teacher the Ex-Opera Singer The great elder Dramatic Tenor Mr Luis Oyarzún Bustos, who owns a very good vocal breath technique because his teacher was Leandro Lan Lombardini who studiend in Santiago de Chile with Carlos Santalices who studied around 1955 in Italy with the famous Italian Classical Super Star Beniamino Gigli, who was Considered the true successor of The Great Italian tenor Enrico Caruso.
About the particular voice of Ignacio Gómez, He comprises a very large vocal range of approximately 3 octaves of piano which makes him a very special singer and allow him to make more vocal arranges for the songs.
Nowadays the Chilean Tenor Ignacio Gomez is one of the voices with more vocal register in the whole world because he can sing at last 83 keys of the 88 keys of the piano. Also some great masters of the classical music think that maybe Ignacio is not a Tenor and maybe he is a natural contra tenor with a very long range of voice.
This singular tenor in overall humble because on his interviews for radio and TV shows, He always said "that a soul never stop to learn and he describes himself as an imperfect tenor and artist because he think that his middle voice need more work and his low notes need more bright", even he always take time to answer to his fans thousands of emails and letters that he receives each month from his Official Fan Club In Ochsenfurt, Germany. The Official international Fan Club Of Tenor Ignacio Gomez is Commanded by Her President Tanja Sabrina Ranke, and According to his Fan Club leader, Ignacio spend time to answer to his fans over 5.000 emails each year; This wonderful thing is possible because his manager Mr. Erwin Evan Oyarzún advice Ignacio Gomez to always show friendship and gratitude to his followers and fans.
After some years of hard work of vocalization Ignacio Gómez improved his method of breathing in a notoriously way all this progress was possible because the excellent method of the Maestro Oyarzún, during those years Luis Oyarzún and her wife where very nice people, they receive him as a son and Mr. Oyarzún teaches advices to be a good man and philosophical rules about life. Honestly Mr Luis Oyarzún was a grand master for him. He make promise Ignacio to keep the great secrets of this vocal technique till be old and gift the legacy to other worthy free thinker artist in the future.
Nowadays Tenor Ignacio Gomez is World Wide Famous as a Chilean Tenor from Punta Arenas, actually is well know as "The Southernmost Tenor in the World" and even is one of the most famous tenors of Internet over 800.000 results on Google. For his powerful and amazing high notes that nobody else can do, he is considerate a completely product of the globalization of the 21th century mainly because despite the distance of his faraway land his music is a complete viral success and his CD albums are listened all over world, in every continent by millions of followers that adore him as a lieder of hope.
His ministry has conquered a huge success that position his career on the Internet as an iconic artist with more than 450,000 visits and thousands of positive comments in his official On-line Video Channel in YouTube, one of his main sponsors sites. Also more than thirty million downloads of his music CD Albums around the whole world and even more that 100.000 email of fans from different part of the world along the five continents, on those hundreds of emails you can find very interesting messages. For Example he was heard and then advised by great artists like the Italian Tenor Marcello Bedonni who was a pupil of the incomparable Italian celebrity the Tenor Franco Corelli, and also By important people like the great Chilean Tenor his friend Jaime Caicompai and many others famous kind celebrities to.
On December 5th, 2006 Tenor Ignacio Gomez received the most important message he ever receive. The Ex-President of United States Mr George W. Bush wrote to him the next Words "Hello Mr. Gomez, You are a wonderful vocalist, I like your Version of Granada, your plan is good and straight forward. Pray we win this war in Iraq soon, thank you. President George W. Bush fan and friend"
The Great singer T.I.G.: has made a musical career that transcended the national and regional levels of his country Chile, achieving unexpectedly make it to talk about him at the international press as a promise of the music, even "The Amazing Tenor" Mr. Tito Beltran has recognized Ignacio Gomez as "Tenor" during a performance on 2007 where they share together on stage at JOSÉ BOHR Teather. In this opportunity Ignacio had the honoured to share on stage with Tito Beltrán and learn from his master experience in the theatres and stages, In This Concert Tito Beltran Says to the public That Tenor Ignacio Gomez, remind himself when he was young and for that reason Mr. Beltran Gifted Him professional background orchestrations to prepare him with the best technologies to give word class concerts.
On 2008 a very rich man called Mr. Sunil Rajesh Nandwani Vaswani, after watch a DVD concert of T.I.G.: and amazed for the brilliant success of the marketing campaigns of his career, called Ignacio Gómez, to ask, if is possible contract him. Mr Sunil asked to Ignacio if is possible to apply his knowledge and experience on artist viral marketing to develop a brad new image for his huge business holding, after two ours of a nice business meeting, Ignacio said yes!, is absolutely possible and I like the world of business to. Nowadays Ignacio Gomez Parallel to his artistic career, become the right hand of Mr. Sunil Nandwani and Nandwani's Family (one of the most richest families in the whole Argentinean & Chilean Patagonia). Ignacio Gómez in an incredible outstanding way realize at the same time the Brand management of the marketing & technology department of more than 18 enterprises and business of the Nandwani's Holding, also he shows his modern ideas creating new enterprises and projects, giving new jobs opportunities for people of Punta Arenas and other cities, achieving with this a great technological contribution to the improvement of the economy of Magallanes and other places of Chile and the rest of the world. Also Mr. Ignacio Gomez become a successful private broker of stocks and still is rising in knowledge and wisdom.
On March 11th, 2009 Mr. Ignacio Gomez work as Goodwill Ambassador, and as continuous and simultaneous and business Interpreter to help the Official Ambassador of India In Chile and Mr. Pradeep Kumar and The mayor Of Punta Arenas Vladimiro Mimica. To synchronize the ideas about to Decide the place of construction of the First square dedicated to Tagore, Nehru y Gandhi, famous Nobel awards of India, mans of world peace who dedicated all their life's to the unity of countries for a world with more liberty, equality and fraternity.
On 2010 Tito Beltran visited Ignacio Gomez's Residence to gift an exclusive Master Class to him, on the meeting Tito Beltran Gifted to Ignacio Gomez a Professional Microphone AKG C 460 B CK 61-US , and in presence of his family he Said the next works "Dear Friend Ignacio, when I was on England recording for one of my international CD album I bought this wonderful microphone that was used by The Italian Tenor Luciano Pavarotti, it cost me more that USD 7.000 and now is my wish gift this Professional Microphone to you as a humble contribution for your Studio Recording, because I know all the good thing you do for people and I want to give you the best technology for your altruist artistic career. After that Tito Beltran's Mother Miss Teresa Aguilar Pinto Said "Tito son! better Give 'em a smack in the head, nacho still have so much to learn, so teach him and make him a big success of the music!, then every body laugh on the studio and the Master Class Continue with secret techniques to breath of the master Beltrán.  
Ignacio Gomez along his life has recorded over 58 International official Cd albums for .: 23 Records Entertainment Group, Grand Major label dedicate to the support artist and singer that believe and work for a new order for the world.
His International Discography includes a large number of genres such as Opera, classical Italian Songs, Neapolitan songs, Old Classical Hymns, Baptist Hymns, Contemporary Christian Music, Praise & Worship, Rock, Pop, Love Ballads, Heavy Metal, Jazz-Pop and many others.
He trusts the Humanity and its traditional values, as family, character and honor. He follow supported for the high factors of the light, and for our belief in the victory of the good always. He will take this project of help the contribution of a perfect society ahead. He will reach for this action and research one high degree development spiritual and material. The think that new world is born because he is working on it and if you want to help him, you can make possible the dream to make The New Order is established.
About his beliefs .:Tenor Ignacio Gómez:. is a Baptist Christian who believes in the great ancient philosophical values of liberty, equality and fraternity, and for that reason he likes to share his international discography and music CD's with his listeners to reach with his art and culture an honest message of love, humanism, Baptist Christianity, ecumenism and social reconciliation for the nations, all this messages through good advices for his fans and followers on faraway places.
His Vision is based in share love with people to help to develop a perfect society in the light, to improve and build a better world for the future generations. His Mission is spread through the music and art, hope love and spiritual values, all this to help the people and families to develop a nice life quality, learning to been good citizens and good honest workers, obedient and loyal members of their own families. He tries to develop in the people the best skill of themselves, spiritual unity to create a new order for the world with more similitude and less differences, a beautiful future with more liberty, more equality, and more fraternity
Finally his charisma and ability to produce emotions in the soul of people, warm felling and kindness is something that I'll be encountered in every concert and performance of him, that's is one of the main reasons why the people heard, follow and support the carrier of the respected Mr .:Tenor Ignacio Gómez:., because thousands of people understand that he is ONE who tries to give through the art a grain of sand to the society, because this grain of sand is a message that is full of love and social union for a New World Order.
Official biography Allow by Permission of ".: 23 Records Entertainment Group"
For further information Contact our press department:
pressdepartment@23recordsentertainmentgroup.com
Influences
Alfredo Kraus, Stryper, Backstreet Boys
Followers:

stats: