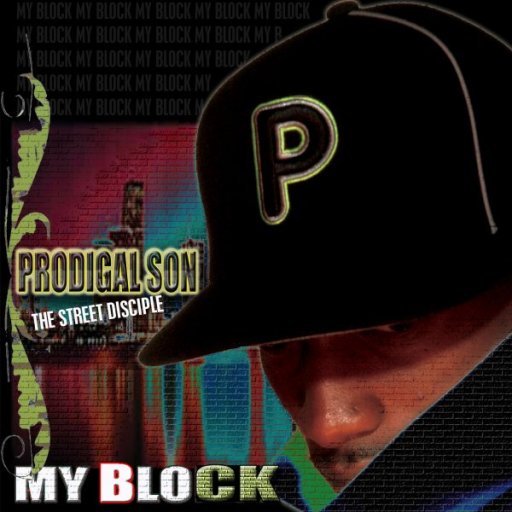 About PRODIGAL SON THE STREET DISCIPLE
Born and raised in Canton, Ohio, "Prodigal Son" only had 4 choices to escape poverty. 1=Crime, 2=School, 3=Sports, 4=Music, Prodigal decided to take all 4 avenues. While in high school Prodigal formed an R&B group that opened for a host of artist such as Levert, Rude Boyz, Men at Large, The O'Jays and M.C. Hammer. At the height of " Prodigal's" career he was sentenced to 1yr. in a juvenile corrections facility for a period of (1) year, and an adult prison for a period of (1) yr. where he had perfected his musical gift.
"Prodigal Son" then moved to Columbus, Ohio to attend college and make a better living for himself. While attending Columbus State Community College "Prodigal" linked up with contemporary jazz band P. Rainey Coalition under Sony Music recordings, performing front line vocals for the band, and performing in various night clubs and major jazz venues. Opening for such acts as Pieces of a Dream, George Clinton, Mickey Howard, Spiral Jira and many more. In 1998 "Prodigal" performed a song entitled Guilty Eyes on the bands New Millennium/Sony recording release entitled Different Angles. In 1999 "Prodigal Son" moved to Ft. Lauderdale Florida to pursue his musical gift because he believed in BIGGER opportunities
Since being in Florida "Prodigal" has opened for a host of artist including R. Kelly, Ex-Con, J-Shin, 3 SIX-MAFIA Field Mob, Busta Rhymes, Fat Joe, Sean Paul, Mystikal, Jagged Edge, Juvenile, the opening act for several BET comics, performed area night clubs and has won several talent events. In 2000, Kelly signed a one (1) album recording contract with a recording label out of Miami, Fl. In 2001 Kelly f.k.a (Q-Dizzo) released a Christmas song/video under the recording label that has soared to
#1
in 5 states. September 7, 2002 "Q-Dizzo) made his first national television appearance on Showtime In Harlem, in New York City, and made it to the 2nd round of MTV's making the band with P.Diddy.
Prodigal Son is also working with a non-profit co. "Recapturing The Vision" which is a co. geared towards youth/teenagers to have them practice abstinence, NON violence and NO drug usage, also featured on Recapturing The Visions 2nd national compilation cd/video, entitled Raise it Pt. 2. Amongst Prodigal's musical gifts he has been cast for 1 major film Bad Boyz 2. A Sinners prayer (HBO Special 2005) now available in FYE music stores.
THE CHANGE
Being healed from breast cancer with the help of no doctors, only God, he turned into The Prodigal Son, giving his life/music to God. Now strictly working for God, no longer performing in clubs, Prodigal now performs/ministers regularly in churches, outreach programs, drug/prison institutions and the streets, Having shared the stage with great performers such as CANTON JONES, T-BONE, ANOINTED, NIKKI LEONTI, TRINI-TEE-57, GOSPEL GANGSTAS, LIL IROCC, PAPA SAN, DOTTIE PEOPLES, Bobby Jones (of the hit BET show Bobby Jones Gospel, and a host of other greats.
Prodigal Son has formed his own recording label "HOLY-wood Records" that has been signed to international distribution in the U.K.
Prodigal Son has released 5 albums "Crossing The Red Sea" Pt.1 and Pt. 2, which Is spinning on local gospel radio stations, nominated for an American Gospel Music Award May 2004, 5th Release CHRIST'S EXECUTIVE OFFICER Now available in local stores and online at www.cdbaby.com/cd/pson
Prodigal was also chosen to compete as 1 of 10 national gospel artist to perform on B.E.T's Gospel Dream January 2004, and also produced the 2003, 2004,2005,2006 stunt music soundtrack for the Power Team.
With Prodigal Son's strong dedication to music, and God, he will become a great success at anything he touches with the correct musical guidance. Are you willing to Help?
Influences
ANY SECULAR ARTIST IN ORDER TO REPLACE THEIR CD WITH PRODIGAL SON CD FOR YOUR COLLECTION
Followers:
stats: