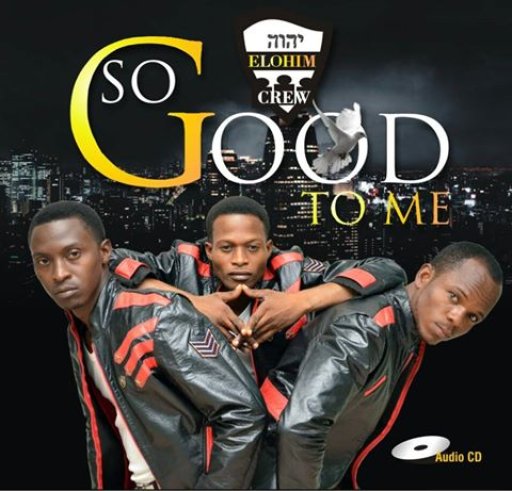 o elohimcrew
The Elohim Crew is made up of three vibrant brothers from different mothers with the stage name funshi,E-steve and EmCyril. Our real names are Odofin Olufunso,Ejike Ajagwu,Emmanuel Udoette.

Elohim crew is known for its different styles of genre of music ranging from Afro Hip-hop,Pop,Reggae adding traditional touch of local dialect into praising and worshiping God. 

Elohim Crew was formed in 2001 as a gospel ministry then called the Elohim family Ministry, by founding members. We started as a group of talented young people with similar passion for arts;geared towards glorifying God. It wasn't known as Elohim Crew,then we called ourselves the Elohim family,and the group was a large one, with sixteen members comprising different performer from musical, dancers to dramatists, and we moved from one church to another for different kinds of ministration.

In 2006,we had our first debut(a six track album),title the Elohim P.O.D1,it enjoyed air-play for a few period, but many challenges that confronted the group could neither let us sustained the success of releasing an album or keeping the group together for long thereafter, but the major challenge was the financial back up and this made some of the members to lose interest,some members left to further their education while some left the country for greener pasture, and the remaining few of us in Nigeria could not come together to continue the project, so for long period the Elohim Family was disbanded. 

In year 2010, After the wind of life has blew everybody away, three of the founding members Funshi, E-steve and Emcyril came back again to bring alive the almost forgotten dream, and we started to compose and record new songs. And when it was time to choose a name for the new group,we decided to leverage on our former name, still recognizing Elohim, so we eventually came up with the name Elohim Crew, which was to indicate the beginning of a new Era in the group.
Over the years Elohim Crew has recorded different singles, like Eledumare, Omimi ,So Good To Me, etc. in which one of the singles titled Eledumare won the first position in Top 3 nominated song for the month of September 2012 on  playmyjamz.com , adding it to our credit with the support of friends and fans who has made sacrificial effort to vote us and to keep us on Top. 
Elohim Crew has performed in different churches within Nigeria, weddings, gospel events like SOME(Scepters Open Mic Experience) and Greatpath inspirational show.

This year 2013,Elohim Crew has worked vehemently to keep its fans abreast by producing its first ever video for the song Eledumare, which is currently seeking for media attention for its promotion. The video is currently making wave on youtube and on some electronic media.

More so, Elohim Crew has started the year 2013 on a beautiful note, by winning the Award for Excellence at the Greatpathtv inspirational show,Being the winner among over 100 artist being nominated for this category. 
Catch up with Elohim Crew on facebook:elohimcrew,Twitter:@elohimcrew, Reverbnation.com/elohimcrew , and Email:elohimcrew@gmail.com.
sledilci:
statistika: