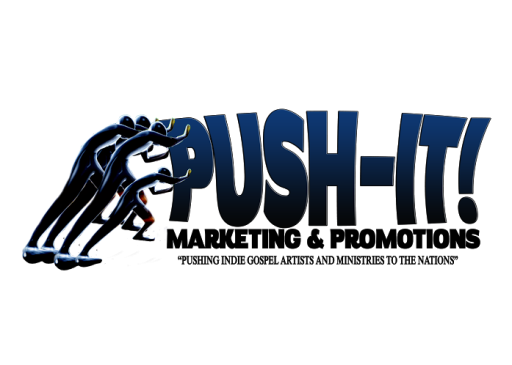 About Push-It! Marketing & Promotions
30+ Year Music Industry Veteran, President & CEO/Push-It Marketing & Promotions
Bruce Calvin is a WELL RESPECTED, WELL CONNECTED, music industry VETERAN that began his music industry career in working with an independent record distributor in Detroit, which distributed local and national recording artists to various record stores in the mid-west region. He became the first African-American Salesman in Detroit for ABC-Dunhill and held additional sales positions with MCA, Phonodisc and Polygram Records soliciting new releases of various musical genres to include: Gospel, Jazz, R&B, Country & Western, Classical and Top-40. His accounts included various retailers, wholesalers and one-stops.
 He advanced in his sales career to multiple chain retailers and soon was responsible for corporate clients such as Handelman, Wal-Mart and K-Mart.He landed promotional responsibilities with the legendary Casablanca Records. His mentors Jeryl Busby, Ernie Singleton, Rubin Rodriguez and Cecil Homes encouraged him to expand his knowledge of other areas and relocated to the southwest region of Texas, Louisiana and Oklahoma. His artist roster has included:Inez Andrews, The Five Blind Boys, The Mighty Clouds of Joy, The Jackson Southernaires, Michael Henderson, Phyllis Hyman, Gladys Knight, Norman Connors, John & Alice Coltrain, Pharaoh Sanders, Donna Summer, Village People , Bobby Blue Bland, B.B King George Clinton and Parliament Funkdelics, Curtis Blow, Steeley Dan, The Bee Gees, The Fat Back Band, Joe Simon, Con-Funk-Shun, Kurtis Blow, The Goon Squad, The Ohio Players, Platypus, Kool & The Gang, The Gap Band, Cameo, The Bar-Kays, Loretta Lynn, Pavarotti, Steely Dan, Three Dog Night, Kiss and helped most of them to sell in excess of one million records each!
He returned to Detroit and was appointed National Director of Promotion and Marketing for Crystal Rose Records a Detroit based gospel label founded by Detroit Attorney Benjamin Whitfield, Producers Michael Powell, Donald Lawrence and Brian Spears. They have recorded such artists as Donald Lawrence & The Tri-City Singers, Ricky Dillard and New Generation, The Thomas Whitfield Company, Chris & Kyle, Gabriel Hardeman, Rodney Posey, Twinkie Clark & The Florida A & M Gospel Choir and Brenda Waters. Bruces' expertise and network abilities have enabled him to work with the most influential people in the entertainment industry today. His collaboration with other record industry moguls has opened the doors for many up and coming recording artist in areas of promotion and sales in various markets. He identified the need for Independent Gospel Artists to market themselves though his internet marketing and promotions firm, formerly known as Push-It Marketing & Promotions!  
 As a Consultant, he provides various services by developing promotional marketing plans and strategies to generate airplay, retail sales, identify distribution sources and provides performance opportunities at various churches, Gospel venues and multi-media outlets such as television and radio. Bruce has also served as Talent Coordinator for the "Gospel Superfest" Television Broadcast, Executive Produced by Dr. Bobby Cartwright. Over the years, he has managed various duties for artists such as: Aretha Franklin, Candi Staton, The Clark Sisters, Carnell Murrell, Zak Williams & 1/Akord, Leanne Faine, Ason, and Psalmist (Pastor) Doris Stokes, Carnell Murrell, Johnny B. Williams, Pastor David Wright, Bill Moss, Jr. Carl B. Phillips, Treva Jones, Jason Bethel, The Williams Singers, Jewell & Converted, Jai Reed,  and Moses Tyson, Jr.. Most recently he has catapulted several artists into Stellar Gospel Music Awards Nomination OR Winner status including: The Gospel Skate Jam Series, Marcus Cole, Jai Reed, Derrick Starks, Marvin Winans, Sr., Moses Tyson, Jr. and Beverly Crawford.
Followers:
Your Blessing Is On Its Way
Artist:
Push-It! Mktg & Promo
Genre:
Traditional Gospel
Duration:
00:04:05
Description:
This song "Your Blessing Is On The Way" is designed to encourage and speak life to a person to let them know that what they've been faithfully seeking God for is on the way! All you have to do is just hold on and believe! God's Posse is a rompin', stompin' quartet that is 70 percent traditional, 30 percent contemporary in its delivery. Gods Posse has been motivated to minister to Gods people. Driven to help someone to be encouraged and let them know that they can make through God. Gods Posse is anointed and appointed by God. They were founded in 1999 by Evangelist Nelson Larkins. The members include: The members are Ray Burnett, Tim Henderson, Anthony Watkins, John Atkins, Deonadre Gods Posse was founded by Nelson Larkins in the year of 1999 in Chicago, Illinois. The current members are: Ray Burnett, Tim Henderson, Anthony Watkins, John Atkins, Deonadre Sanders, Cedrick Montgomery, Antonio Atkins, Corey Williams, Randy Berry Sr, Keith Hoskins Jr, and Dennis Qualls. Their latest album entitled "Live in Chicago" was reviewed as their top selling album. Songs such as "Back Back Train", "Kind of God we Serve", and "Put your Trust in Jesus". They are know for their traditional sound. Gods Posse have been inspired by groups such as The Canton Spirituals, The Jackson Southernaires, The Pilgrim Jubilees, Doc Mckenize and the Hi Lites, Ira Tucker and Dixie Humingbirds, Willie Neal Johnson & The Gospel Keynotes, and Lee Williams and The Spiritual QCS.
Tags