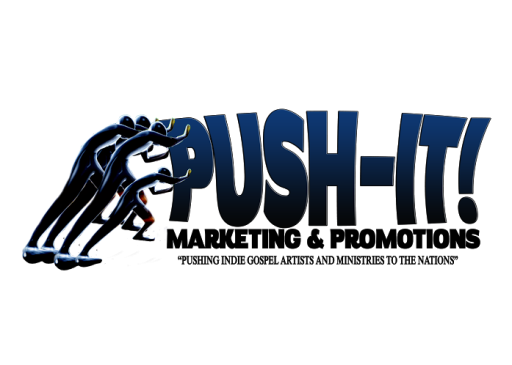 About Push-It! Marketing & Promotions
30+ Year Music Industry Veteran, President & CEO/Push-It Marketing & Promotions
Bruce Calvin is a WELL RESPECTED, WELL CONNECTED, music industry VETERAN that began his music industry career in working with an independent record distributor in Detroit, which distributed local and national recording artists to various record stores in the mid-west region. He became the first African-American Salesman in Detroit for ABC-Dunhill and held additional sales positions with MCA, Phonodisc and Polygram Records soliciting new releases of various musical genres to include: Gospel, Jazz, R&B, Country & Western, Classical and Top-40. His accounts included various retailers, wholesalers and one-stops.
 He advanced in his sales career to multiple chain retailers and soon was responsible for corporate clients such as Handelman, Wal-Mart and K-Mart.He landed promotional responsibilities with the legendary Casablanca Records. His mentors Jeryl Busby, Ernie Singleton, Rubin Rodriguez and Cecil Homes encouraged him to expand his knowledge of other areas and relocated to the southwest region of Texas, Louisiana and Oklahoma. His artist roster has included:Inez Andrews, The Five Blind Boys, The Mighty Clouds of Joy, The Jackson Southernaires, Michael Henderson, Phyllis Hyman, Gladys Knight, Norman Connors, John & Alice Coltrain, Pharaoh Sanders, Donna Summer, Village People , Bobby Blue Bland, B.B King George Clinton and Parliament Funkdelics, Curtis Blow, Steeley Dan, The Bee Gees, The Fat Back Band, Joe Simon, Con-Funk-Shun, Kurtis Blow, The Goon Squad, The Ohio Players, Platypus, Kool & The Gang, The Gap Band, Cameo, The Bar-Kays, Loretta Lynn, Pavarotti, Steely Dan, Three Dog Night, Kiss and helped most of them to sell in excess of one million records each!
He returned to Detroit and was appointed National Director of Promotion and Marketing for Crystal Rose Records a Detroit based gospel label founded by Detroit Attorney Benjamin Whitfield, Producers Michael Powell, Donald Lawrence and Brian Spears. They have recorded such artists as Donald Lawrence & The Tri-City Singers, Ricky Dillard and New Generation, The Thomas Whitfield Company, Chris & Kyle, Gabriel Hardeman, Rodney Posey, Twinkie Clark & The Florida A & M Gospel Choir and Brenda Waters. Bruces' expertise and network abilities have enabled him to work with the most influential people in the entertainment industry today. His collaboration with other record industry moguls has opened the doors for many up and coming recording artist in areas of promotion and sales in various markets. He identified the need for Independent Gospel Artists to market themselves though his internet marketing and promotions firm, formerly known as Push-It Marketing & Promotions!  
 As a Consultant, he provides various services by developing promotional marketing plans and strategies to generate airplay, retail sales, identify distribution sources and provides performance opportunities at various churches, Gospel venues and multi-media outlets such as television and radio. Bruce has also served as Talent Coordinator for the "Gospel Superfest" Television Broadcast, Executive Produced by Dr. Bobby Cartwright. Over the years, he has managed various duties for artists such as: Aretha Franklin, Candi Staton, The Clark Sisters, Carnell Murrell, Zak Williams & 1/Akord, Leanne Faine, Ason, and Psalmist (Pastor) Doris Stokes, Carnell Murrell, Johnny B. Williams, Pastor David Wright, Bill Moss, Jr. Carl B. Phillips, Treva Jones, Jason Bethel, The Williams Singers, Jewell & Converted, Jai Reed,  and Moses Tyson, Jr.. Most recently he has catapulted several artists into Stellar Gospel Music Awards Nomination OR Winner status including: The Gospel Skate Jam Series, Marcus Cole, Jai Reed, Derrick Starks, Marvin Winans, Sr., Moses Tyson, Jr. and Beverly Crawford.
Followers:
Saturday November 5 2016, 7:30 PM
@ Lincoln Theater Washington, DC
Le'Andria Johnson premiers in the Award Winning Stage Play "Spare the Rod, Spoil the Child" Produced by Dr. Mildred Summerville Washington, DC - Tall One Outreach Ministries presents Spare the Rod, Spoil the Child Gospel Play at the Lincoln Theatre, 1215 U Street NW, Washington DC on November 5, 2016, at 7:30 pm. The Award-Winning Gospel Stage Play is written by Dr. Mildred Summerville and directed by James A. House. In this gripping and engaging dramatic piece, a woman is simply known as "Grandma" serves as the pillar of her surroundings. Her son's family is in crisis, and those within her neighborhood are drowning in chronic troubles of their own. Through it all, Grandma seeks God on behalf of those who are not spiritually inclined enough to seek Him for themselves. Even those who resent her, such as her son's sometimes-rigid wife, Linda, ultimately end up on Grandma's prayer list. And when the walls of the lives of those around Grandma seem to come tumbling down, they know who to turn to for guidance and sound counsel. It's not always advice that they want to hear, but it is consistently the precise word needed to steer them in the right direction.

Using spirit-filled music and memorable characters like James, the doting son, Linda, the insensitive daughter-in-law, Tracy, the high-strung teenager, and Sister Cantaloupe, Grandma's feisty sister, Spare the Rod, Spoil the Child portrays issues within the community such as family dysfunction, peer pressure, substance abuse, and other pertinent matters that are too often inadequately addressed or considered taboo altogether.

Other characters in the cast bring even more drama to the script. In her God-given wisdom, Grandma confronts Tracy's suppressed anger and bitterness, convincing her to disclose facts about a rape kept secret for years. Also, she fervently prays for her grandson, William, who has a change of heart and avert a life of gang involvement.

Though compounding events take a toll on Grandma, the audience will rejoice in knowing that this elderly woman's life was prayer-centered, purpose-inspired and inevitably not at all lived in vain. Extraordinary drama, corrupt karma, a supportive pastor, and a praying grandma, all come together to make Spare the Rod, Spoil the Child a must-see theatrical production! Infused with foot-stomping gospel music, this is soul-stirring entertainment that will warm hearts, tickle funny bones, uplift the spirits, and search the souls of all those who experience it.

Gracing the stage are Grammy Award winning artist Le'Andria Johnson, Gospel singing sensation, Shawn McLemore, who is known for his hit single "I Believe" featuring James Fortune, Dr. Pauline Key and Comedian Trina Jeffrie aka Sis. Cantaloupe. Viewers are in for an unforgettable experience! The additional supporting cast members are Hope Demps, Anthony A.D. Demmer, Bria Walker, Trenton Lumpkin, Elizabeth Henry, Hasan Texeira, Dana Kristina-Joi Morgan and Rhonda McLemore. A must-see story; the play is alternately a moving drama and a side-splitting comedy that will be talked about in families and generations to come. These insurmountable challenges have been encountered by most families.
Reviews:
"Spare the Rod, Spoil the Child is a professional play that speaks to all ages. I was particularly amazed to see young people who had so accurately depicting what our youth are going through. Everyone should see this exceptional play. Your life will never be the same. You will laugh, you will cry, and you will laugh again. You need to see it!"
Pastor Shirley Caesar, Mt. Calvary Word of Faith
"Dubbed as the latest and the greatest gospel play ever performed, Spare the Rod, Spoil the Child will make you laugh, cry, think, rejoice and will make a difference in your life. From the scenes on the street, home, and church, you will see a reflection of your own life. My life has truly been enriched through my support of this play."
Peggy Tatum, TCP Magazine
Le'Andria Johnson (born January 23, 1983) is an American gospel musician and singer-songwriter. She was the season three winner of the BET gospel singing competition show Sunday Best. Johnson's Sunday Best coronation song, "I Shall Leap into My Destiny," co-written by Johnson, entered the Billboard Gospel chart at number 1. As part of her win, she won a national recording contract, a 2010 Ford Taurus, and a cash prize courtesy of Degree Nature Effects. After winning Sunday Best, Le'Andria was signed by showbiz entrepreneur and father of Beyonce, Matthew Knowles, to Music World Gospel, in a joint venture with BET and the Sunday Best brand. A debut seven-song EP, The Awakening of Le'Andria Johnson, which spawned the hit "Jesus," was released in 2011, followed by a second seven-song EP, The Evolution of Le'Andria Johnson, in 2012. The two EPs were then combined in 2012 to make a full album, titled The Awakening of Le'Andria Johnson Deluxe. Johnson is the first Sunday Best contestant to receive a Grammy Award, which she won in 2012 for Best Gospel/Contemporary Christian Music Performance.
Johnson recently started IPC (Imperfect People Changing) Ministries in Atlanta, Georgia. Their first service was held on June 16, 2013. On New Year's Eve 2014, Johnson and IPC Ministries held an outdoor concert bringing food, clothing, praise and worship to the streets of Atlanta. The concert was a huge success, which motivated Johnson to establish iProgress, an outreach initiative which gives back to those less fortunate in the city of Atlanta. iProgress distributes, food, clothing, Bibles, and in-kind gifts once a month, outside the homeless shelter at Peachtree and Pine Street.
In 2015, Johnson began filming with "Preachers of Atlanta," a reality show spin-off of the Oxygen hit "Preachers of L.A." that chronicles the lives 5 Atlanta-based preachers live within the ministry. Despite the show's focus on liberal theologies--all of the preachers have, at some point on the show, expressed disdain for the impractical and oppressive regimes of contemporary American churches--Johnson has been a standout in her non-traditional techniques of ministering and pastoring. For starters, she is a woman and pastor; women's leadership is still incredibly controversial in the church. Many people will not have a conversation about God, the Bible, or spirituality. When we say we try to "meet them where they are," this is to simply start a conversation, share testimonies, and minister the gospel of Jesus. You find that despite their current situation, many of the people know the Bible and are ready to change their lives; they appreciate not judging them or scolding them but simply having an open and honest conversation with them. They came to church afterward and are still coming.
About the Writer/Producer:
Dr. Mildred Summerville recently received an award from the Heritage Registry of Who's Who in the field of Spiritual Education Entertainment for her Award- Winning Play, Spare the Rod, Spoil the Child, and she is an exclusive member of the Heritage Top 100. She was also a 2016 Down East Honoree of the Lifetime Achievement Award. Dr. Summerville is an active member of Delta Sigma Theta Sorority and Mt. Calvary Word of Faith Church in Raleigh where she serves as an Armor Bearer for Pastor Shirley Caesar. During her association and work with the renowned gospel artist, Summerville realized she had a zeal and talent for entertainment.
Dr. Summerville's greatest professional -- and personal -- accomplishment lies in her establishment of a community-based nonprofit organization called Tall One Outreach Ministries. Tall One is based on a nickname bestowed upon Summerville by her pastor, Shirley Caesar (Queen of Gospel) alluding to Summerville's six-foot stature.
Committed to making a difference, Dr. Summerville ministers to others through her many talents and strengths touching lives in a variety of venues. She launched an Entrepreneur Program to assist students in defraying the cost of a higher education. The program was designed to provide an opportunity for Wilson County youth to earn money while learning valuable sale and marketing skills.
The mission of the organization is to serve as a nonprofit community-based organization, promoting educational, cultural awareness, creating jobs, and performing arts opportunities. Its purpose is threefold: 1) to provide opportunities for employment for the youth 2) to increase human relations within communities by providing performing arts events that promote diversity and multicultural awareness(such as Wilson Idol and Spare the Rod, Spoil the Child Gospel Play; and 3) to promote health disparities awareness and prevention by creating programs and strategies to address community issues through performing arts, such as the illiteracy rate, the high school drop-out rate, delinquent behavior, teen pregnancy, obesity, suspension rates, drug abuse, crime, and poverty.
Tall One also uses Performing Arts as an educational tool to promote ways in disciplining and training children. Discipline shows children that they are not above reproach and they are accountable for their behaviors. "The greatest responsibility God gives parents is the nurture and guidance of their children. Lack of discipline puts a parent's love in question because it shows a lack of concern for the character development of their children. Without discipline, children often grow up with no clear understanding of right and wrong and with little directions to their life."
Spare the Rod, Spoil the Child Gospel Play is the perfect event for youth groups, date nights, church congregations, and family outings. Make it a family affair!
Tags