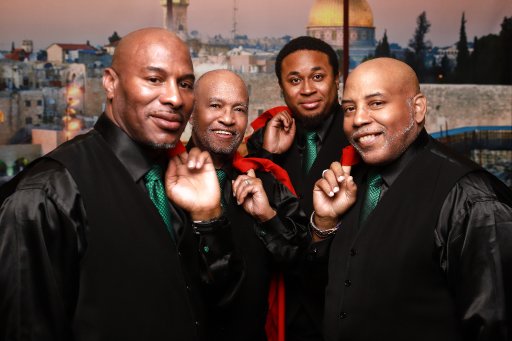 About Mighty Men of Faith
From the San Francisco Bay Area, Gospel Recording Artist Mighty Men of Faith ministers with energized anointing. They encourage an authentic atmosphere of worship on stage and their trademark sound, personal warmth, and musical diligence leaves you eager for more. Embodying the love of God, their shows are heartfelt and soul-stirring from the first note.
Their debut album "Because He Loves Me" and "Live at the Cubberley Theater" began a standard of encouraging and empowering people through song. Then "Nothing But Grace" and "Believe in His Promises" embarks on a Neo-Gospel sound with the timeless message that not only does Jesus save but that He'll be with you through your life's situations.
The Mighty Men of Faith is a multi-award-winning group and have performed on various stages in the bay area and around the country. Main staging at the 2015 Rhythm of Gospel awards, "Bobby Jones Presents" on Impact Television Network and Black Music Association awards. Their music is played not only within the United States but also internationally. The Mighty Men of Faith are current nominees for the Voice of Gospel Music Award. Albums:
Believe In His Promises released April 2016
"Because He Loves Me" released 2009
"Mighty Men of Faith Live at the Cubberley Theater" released 2011
"Nothing But Grace" released 2014
Singles
Falling in Love Again
It's a Mighty Good Thing To Be Chosen
Father These Things I Pray
Awards
2014 the San Francisco Bay Area " Black Music Association and Academy of America recognized the group with the "Best Gospel Group" and "Best Image Awards".
GospelCDreviews 2014 "Artist of the Year"
Independent Music Award Nominee
2015 Rhythm of Gospel Awards: Contemporary Group/Ensemble of the Year and
Contemporary Quartet CD of the Year. (Nothing But Grace)
2017 Voice of Gospel Music Award Nominee
2020 Independent Music Award finalist album of the Year for "Undisputable is He."
Influences
Temptations, Canton Spirituals, Whispers
Followers:

BEST ❤ Contemporary Gospel -MIGHTY MEN OF FAITH "Just Hold On"
Category:
Music
Duration:
00:03:28
Description:
From the San Francisco Bay Area, gospel recording artist Mighty Men of Faith energize and anoint the soul. Their gospel singing spreads the love of God, their music is heartfelt and soul stirring from the first note.
Music of the Mighty Men of Faith, featuring Wendell Basey, Charles Johnson, Rev. Ed Prothro-Harris and Rev. Richard Hayes, is a blend of traditional and contemporary gospel music often described as neo-gospel.
Visit their website here:
http://www.mightymenoffaith.com
Buy their music on iTunes here:
https://itunes.apple.com/us/artist/mighty-men-of-faith/id386627940
Tags