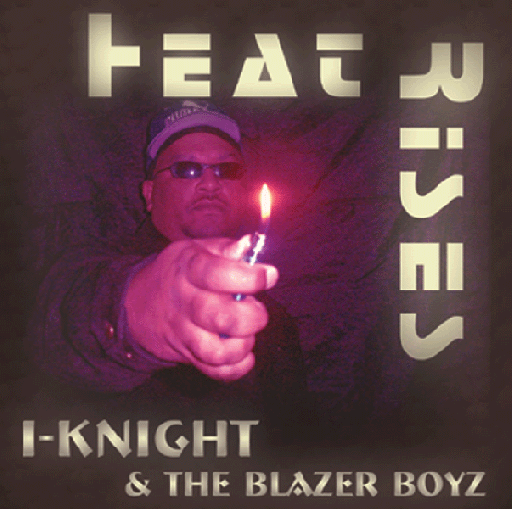 About I Knight
www.DjIknight.com
 
I knight's Music Store www.BurnLounge.com/iknight
  www.MySpace.com/iknight

Popular Northern California producer
"I Knight" Once again making industry noise!

"I Knight" has produced for artists such as: Ill-Fated, Sevin, Minister RMB, Techni-Crew, C.O.W , Motz, Mr. Real, Cary, Conte, B.Wild, Trigga, Mixxula, MC R.D., Sanctified Mike. B plus others….

Back with his first solo project and first release in some time. "Heat Rises" from
"I knight" and the Blazer Boyz, which also includes "SouthSide Prophet".

"I Knight" is also set to launch his "Knight-Like Organization" which will include: No. California music promotions, apparel (shirts, hats etc), and Beats (music) for sale. Visit www.DjIknight.com for more information.

"Heat Rises" is the latest release and it features guest vocals by Minister RMB, Conte, Trigga, Sanctified Mike B. including the hit track from the Holy Hip Hop compilation "Repeat Offenders" Volume 1 titled "Wordz u walk" featuring  Sevin (Hog Mob) and Mr. Real (formerly of Grapetree).
"Heat Rises" is a collection of new and old recordings from "I Knight", maybe that is why this release contains 21 tracks.

I-Knight, formerly known as DJ I-Knight, was born in Sacramento, CA. I-Knights music career started years back, first as a breakdancer, then as a Disc Jockey. From house parties to concerts and night clubs, I-Knight developed a reputation as one of Californias best street/battle DJs. The highlight of I-Knights DJ career came when he and legendary DJ Joe Cooley (Rodney O and Joe Cooley) did a duet turntable showcase at a concert in the mid 90s. I-Knight (derrived from Jedi-Knight, Star Wars) formed one of Northern Californias first independent underground record labels (Mixed Image Records) in the late 80s. I-Knight was also a part of the labels first group to be released, Techni-crew. In the early 90s, the Techni-crew became Ill Fated, I-Knight became a familiar name in the Northern Califronia Hip Hop scene after the group released the Califunk EP. I-Knight then retired from the music scene to serve the Lord in 1996. It was not until I-Knight was sure that the Lord was calling him to continue in music, then he reassembled his studio (Knights Kitchen), to further the work of the Kingdom. I-Knight is also a bible teacher and seminary student, where he is hoping to obtain his Bachelor of Divinity. I-Knight also has started Stand Fast Christian Institute, a ministry to help new Christians as well as seasoned saints, in addition to Canon Related Muzik (Production Co.) and Boundless Recordz.
"Heat Rises" gives you that hard aggressive music that many of us enjoy, with lyrics that will liberate your mind. Lyrics that will not only lift your spirits but encourage you to motivate others with there walk with Christ. This album does not preach at you or thump you with the Bible, it simply gives you a whole new outlook and perspective on life as we deal with the principalities of this world. God told us in Jeremiah 23:29 "Is not my Word like fire" hence the name "Heat Rises"

Tour Update: "I Knight" has teamed up with Minister RMB to form the West Coast "Block Ministry" Tour (other artists to include Conte and Trigga) scheduled to start this Spring and run through the Summer of '07'. Contact
"I Knight" for more information.

Some of my tracks are aggressive, while others are laid back and thought provoking. Each track contains lyrics that points to the teachings and or the life of Jesus Christ and or God's redemptive plan for man. My tracks do not preach "at" you or thump you with the Bible, in many cases the message is subtle.


Website

http://www.djiknight.com
Discography

Secular:
He's not a thug (EP) Techni Crew (1989)
Danger Island (Album) Techni Crew (1991)
Enter '916' (EP) BMW / Sac-Town Rap All-Stars (1991)
Califunk (EP) Ill Fated (1994)
HBNS (Single) Ill Fated (1994)

Holy Hip Hop:
Repeat Offenders Volume 1 (compilation) (2005)
Hyphie for Christ (EP) (2006)
Heat Rises (CD) (2007)
stats: