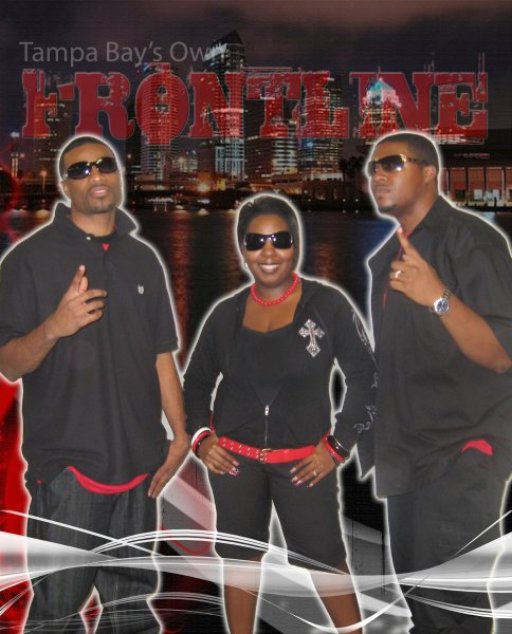 About Frontline
   Born on January 29, 1983, to Louis and Gailry Bagley, Chad Bagley was destined for greatness. Being brought up in the church and always around Men of God, Chad gained knowledge and wisdom about the Word of God and his purpose in life. Growing up like the average teenager, Chad was drawn to rap music and the Hip Hop culture. He would go to school and freestyle in daily ciphers with fellow classmates. There he perfected his craft of Freestyling. It wasn't until Chad turned 17 that he realized that God had a bigger plan for his life. He truly surrendered his life to Christ and burned all his secular rap cd's. He then focused all of his time and energy into what God has called him to do. Evangelism. Chad enrolled in theology school and his passion for street ministry grew. He turned his talents for freestyling into a tool to help reach lost souls bound by the Hip Hop culture. God gave Chad a vision of a ministry dedicated to the truth, uncut and holy.
   During the birthing process of the ministry Chad met a young lady named Ronika, whom he married after 2 years of courtship. Ronika was born on September 22, 1980 to Elijah and Brenda Hughes. Ronika was also brought up in the church but she soon lost her focus and was headed for rebellion. She became a single mother at the age of 18 but still graduated from high school on time. During her life she has endured molestation, suicide attempts, rape, drug and alcohol abuse and more. She never really understood what her purpose was and why she had to go through such harsh circumstances until she gave her life back to Christ at the age of 22. God has called her to be a light to women young and old, to help them see their potential and purpose through all the obstacles that life may throw at them. She has a very powerful testimony which can be heard throughout her song lyrics. She has been rapping for the Kingdom for over 3 years and through God's Word she has seen many lives changed.
    Frontline was birthed in 2005 with a mission to help lead the lost souls to Christ regardless of their situation. We are trying to reach those lost through street ministry, gospel rap, door-to-door witnessing and by showing the love of God through His Word. We use gospel rap as a tool to minister to the unsaved and saved. Our hearts are for God's people and His Kingdom purpose. 
   In the early part of 2008, Chad came into contact with a friend he had known for quite a while, but had lost contact with, who was also a gospel rapper, named Keon. After ministering to each other after a concert one day they began to talk about what God was doing in their lives and soon Keon became a part of Frontline.
  Having grown up in the church, Keon Jenkins did an about-face and ran from God and was determined not to look back. That all changed after a car accident almost claimed the life of Keon and his friends. That is when he decided it was now or never and he surrendered his life completely to God. He turned away from secular Hip Hop and gave his heart and soul to Christ, therefore giving his voice to God. The newest member of Frontline, Keon "Sho-Nuff" "Soul-Winner" Jenkins, is just as anointed and passionate about God's people and His kingdom purpose. Having gone through abusive relationships as a child to being out on the streets, he has a testimony to touch many souls.
   Weall are members of Triumphant Fellowship Church where Pastor Craig and Barbara Holloway are their shepherds. 
 Frontline is not just a rap group, we are ministers of God's Word and we operate boldly but only under the authority of our Lord and Savior Jesus Christ.
Influences
Mynista, Kirk Franklin, Mandisa, Mercyme, Nicole C.Mullen, Fred Hammond, Jeremy Camp, CeCe Winans, Juanita Bynum
Followers:

stats: