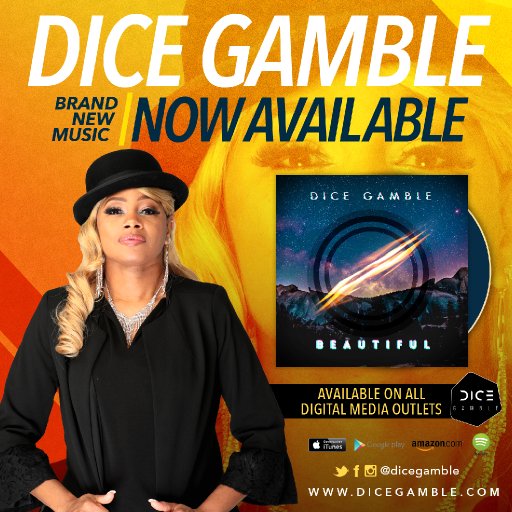 About DICE GAMBLE
DICE GAMBLE was born in Evansville Indiana, an area not noted exactly for its fertile hip-hop scene. Nonetheless DICE developed a super talent early playing musical instruments and being involved in her local church. Raised by and born into a gospel singing church going family explains GAMBLE'S love for hip-hop and R&B with a gospel twist. Born to an 18-year-old Alice Grissett, Dice, then known as Veronica Gamble, was helped raised by her singing and piano playing Grandmother Bernice Grissett. Being baptized at the age of five Reverend GAMBLE's daughter spent 10 years trying to deny the major gospel influence imbedded in her by indulging in worldly ways, drugs, sex, and alcohol while making secular music that degraded everything her family and the church had taught her. After 3 near death experiences GAMBLE finally rededicated her life to Christ in 2003 realizing GOD had spared her for HIS purpose!

Dice, "The Kirk Franklin of hip-hop", style is of a concerned Lauren Hill mixed with MC Lyte street awareness topped with Missy party energy plus a touch of Da Brat cockiness. (For the LORD that is! ) The Ditty Ink Music recording artist is one of the most talented and versatile artist of the millennium! GAMBLE's refreshing new sound is urban, contemporary, traditional, rhythm, praise and much much more! DICE and THE CHRISTIAN K.I.D.S. are entertaining the saved and unsaved while delivering a message of salvation, love, hope and promise! Hooky high-energy cuts with beautiful vocal arrangement allow DICE to assume her rightful position as writer and producer in today's music industry. Formerly well known in the secular music world GAMBLE has been able to cross her dedicated fans over as she changed her subject matter and crossed her music over for GOD with no problem!

After spending years of watching how music was made, mixed, produced and arranged DICE heard a Word from the LORD to put out what was in her heart herself! Being obedient GAMBLE released her first gospel album "THE POWER OF PRAYER" on her own independant music label, DITTY INK MUSIC INTERNATIONAL April 2005. Blessed to be able to write lead and background vocals GAMBLE has no problem producing, recording, and engineering sessions herself so her annointing can be added to every part of a song or project! As her life long dream is now being turned into a reality DICE sincerly acknowledges the angelic roles of her friends and colleuges that play major parts in her developement spiritually and artisticly.


DICE's debut project reflects her overwhelming MC diversity and hip-hop influences that no doubt has allowed her to created a sound uniquely her own! GAMBLE's song writing credintials, hard work and dedication has earned her respect and recognition enough to have some of the world best producers backing her newest project, "ANGEL FIRE and the C.K. Chior." With undeniable talent DICE and the CHRISTIAN K.I.D.S. continue to gain thousands of fans cross country as they minister the powerful messages GOD has put in their hearts to give to you and the rest of the world! Taking holy hip-hop to new platues these overnight successes are sure to exceed Gospel Sales and the expected normal potential of regular "Gospel Artist."

From song "See my Lord" to song "Oh Donna" your head will want to bob and your spirit will be compelled to open recieving the message GOD has for you through HIS K.I.D.S! With prayers to heaven to bring us out of situations on "FATHER help us" to praising GOD for the simple things in life like "Your LOVE for me" to expressing the LOVE felt from a relationship with Christ on "SOMETIMES" or just partying in JESUS name on "Krunk for CHRIST" and "Babydoll" all ages will enjoy this album for a life time!

DICE and the C.K. says to you and all......
..."In HIS name, be blessed!"

Website


Discography
A combined DICE and the Christian K.I.D.S. have been on BET, MTV, PBS, UPN, local and worldwide radio/tv. DICE and the K.I.D.S. have performed with many music industry artist out now and up and coming! Having released 5 albums, performed at VIBE MUSIC FESTIVALS, BOBBY JONES GOSPEL RETREATS to name few the list is growing longer and longer!