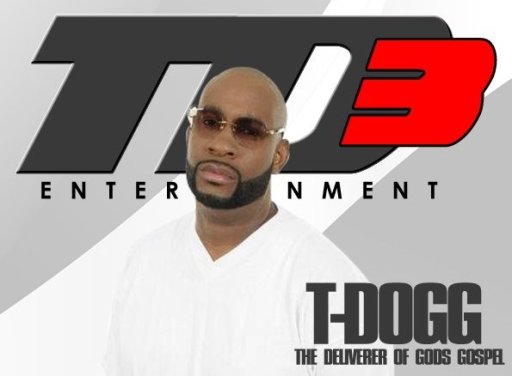 About TDOGG954
T-D.O.G.G. (The Deliverer of Gods Gospel), given name Travis Gammage is no stranger to the
music industry. Born and raised in Deerfield Beach, FL is where he discovered his talents and love for music.
His first hit single in 2001 "I Hate Cha Hate It" led him to a signed contract in 2002 to the Miami Hip-Hop
Record Label XELA Entertainment. With the death of his CEO, his father, and his sister, T-D.O.G.G.'s music career was placed on hold. He returned to the music industry in 2007 with a hit single "Take It To The Streets" featuring Trick Daddy, 2008 with "We Getting Money", and then again in 2009 with "Ain't Worried
About Haters" featuring Ice Berg. The success of these singles encouraged T-D.O.G.G. to create more hits and headline shows around the world with Lil Wayne, Trina, Trick Daddy, Jagged Edge, and Rick Ross, to name a few.
By the end of 2010, T-D.O.G.G. knew that he was being prompted by God to change his lyrical style
and by doing so his life would change forever. T-D.O.G.G. wasted no time fulfilling what God commanded which raised him to prominence in the body of Christ. His credibility served to open doors and he began meeting opportunities with purpose.
In 2012, T-D.O.G.G. recorded his first gospel album with GMF Music Group entitled "Changing Faces", which
includes hit songs "Pray For Me", "Wait For My Lord", "We Gonna Praise Him", and many more. These hit songs are currently being played on more than 300 radio stations across the nation making T-D.O.G.G. one of the most requested and respected National Hip-Hop Gospel Artists.
Because God is first in his life, his passion for true ministry and great art is unquestionably displayed
in everything he does and he is certainly deserving of his earned recognition as the artist with the "Holy Ghost Swagg".
Having toured with Gospel greats J-Moss, Mary-Mary, Kim Burrell, Vashawn Mitchell, Amber Bullock,
Deitrick Haddon, Marvin Sapp, and Fred Hammond, T-D.O.G.G. has completed his newly released project featuring Mother/Community Activist/Director of the Trayvon Martin Foundation Sybrina Fulton.
T-D.O.G.G. is an active philanthropist, neighborhood activist, football coach, dedicated church member,
husband, and father of three.
Look for more from T-D.O.G.G. (The Deliverer of Gods Gospel) with his Gospel Label TD3 Entertainment as he prepares to release his CD full of innovative and energetic sounds "Street Medication" in 2014.
**FOR BOOKING INQUIRIES CONTACT: MONA SCONIERS 754.235.1069**
stats: