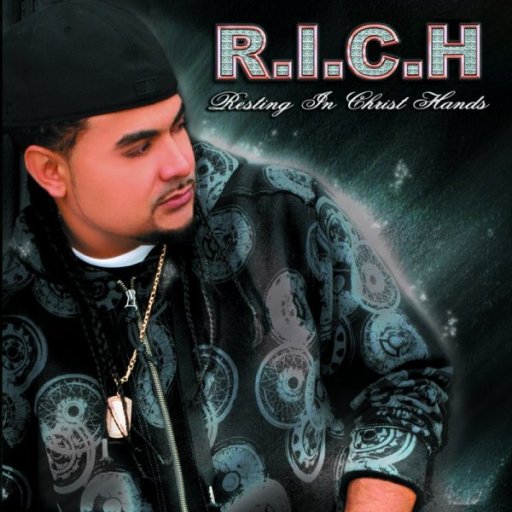 About Richie Righteous
"When the bullet missed me yall, and it went and hit the wall, --that wasn't bad aim, that was Jesus Christ."

Richie Righteous is a minister who God has used to touch the lives of people all over the world. He has traveled to over 50 cities and 6 countries, and has ministered in places like the Potter's House and Bishop Paul Morton's Full Gospel conference. He has also been featured on projects like the The Bible Experience (which features Denzel Washington, T.D. Jakes and many more) and American Bible Society's Elementz of Life magazine and CD.
This dynamic ministry is in demand by churches and organizations to reach this generation. Lives are truly touched and changed. His Story. Held at gunpoint with thieves rummaging through their house, Richie experienced a world where people are harsh. His newborn sister's life was threatened and his father's life was endangered by thieves who believed that his father being a Pastor, would have much wealth. They were mistaken for they only left with his parents' wedding rings. That night Richie saw the world through the eyes of a seven-year-old. In one night he felt fear, terror, shed tears, and experienced God's faithfulness. Little did he know that bullets in various forms, whether they be criticisms, loss of relatives, disappointment, etc, would pass his way, but would miss him because of Jesus Christ. Richard Mohammed Ishmael was born in the country of Guyana, South America. His dad was the Pastor of a church called Eccles Assembly of God. At around age 11 Richie and his family migrated to the United States where they settled in Queens NY. There Richie quickly fell in love with the hip hop culture which was rapidly growing in America. His dad started a church in Jamaica, Queens called Jamaica Assembly of God. In church Richie was active playing the drums.
Although he was active in church he was being heavily influenced by the outside world. His actions with the kids in his apartment building and at his high school were not approved by his father. He even hung out in places where drugs were being heavily sold and guns were carried, fortunately Richie was never involved in a crime. In addition to this, he never smoked or drank. Richie hung with people that did not know God and even though he rarely mentioned God he still wished that they knew Christ. Richie's brother then purchased a keyboard and it was then that Richie started experimenting with it and started to write his own songs; solely hip-hop and reggae. He began to reach out to his friends through his music. Typical of teenagers, Richie began to feel that he knew everything and his father and him grew apart. And when Richie and his dad finally began to develop a relationship his father died in front of him. During this time Richie went through a time of sorrow and questioning.
His faith in Christ took a strong blow; He was doing music but it was not "real" to him. During this time eventually went on to get a girl pregnant out of wedlock. Now he was faced with the decision of whether or not he should abort his unborn child. Concerns, fears and thoughts ran though his head: he was in the church and a known artist locally; how could he go about telling people that he got a girl pregnant? The choice of abortion seemed to be the best one but then God stepped in and said "Enough". God and Richie made an agreement that if he kept the baby, God would take care of the child. Richie from then on became Righteous and kept the child. Today his son, Sehven, is nine years old and Richie is happily married to his son's mother, Sherry-ann Ishmael aka Lady Righteous.
Today him, his wife, his son and daughter minister the gospel wherever they go as a family. God has brought this Richie a long way and will continue to. Today Richie Righteous is an MC who simply spits for the great- "I AM" and un-relentlessly tells what's "the real". His music transcends what's "normal", or "religiously accepted", he spits for Christ and Christ alone with no compromise. He has started a label known as Righteous Entertainment, whose goal is to "Flood the Market with the Gospel", a vision to take back music for Christ and flood the music industry and the world with the Gospel of Christ.
By Richie Righteous, 2010-02-03

What concerns you today? What are you working so hard to achieve? And more importantly Why?  Sometimes we can be working so hard, that our work can become a distraction from what is really important. After all we live in a culture that defines success by possessions. So we work hard to gain a benz or a bentley. A MTV Crib..They say when you have those things you have
"arrived".. But what has happened is that our society has people working so hard to obtain a life that does not guarantee happiness. We have become a people who are always trying to get.. You hear it in our talk.. "Yo Son I'm on my Grind," " Yo fam I'm Doing my thing kid," "I'm getting my paper." Even in the church, so many of us are doing the Lords work and we don't even spend time with the Lord of the work.. We do this cause we want people to think we are successful.. But who cares what people thinks? Do you? 

Jesus was passing through with His disciples and stopped in Martha's house.. Martha was so concerned about making sure every detail in the house was correct. After all in that society, that was the role of the women.  That's what gave her worth. The fact that she is able to take care of her home in excellence.. But she noticed that her sister Mary was not helping.. Martha got tight.(Angry).. Mary was sitting at Jesus' feet and listening to Him speak.. Martha was so angry  that instead of talking to Mary she asked her guest Jesus to correct Mary.. LOL.. I could understand Martha wanting to make sure everything is right for Jesus. After all this is the King Of Kings.. This is no ordinary man...What would Jesus say if He came to your house and it was'nt in order?  But thats the point.. Jesus came to us because we are not in order.. If we could, on our own fix every detail in life there would be no need for Him.. Our life is chaotic. And we make it worst by thinking we could fix it on our own..By thinking if I get this Car, this Wife/Husband, this House, ( and these things are good) but they will never fill the emptiness that we feel. They will never satisfy.. They will never conquer sin in your life. 

Mary got the revelation.. All her life she was probably concerned about details. Now she met Jesus and realize that all of those things cannot satisfy.. I could imagine when JESUS begun to speak how it caused her to stop whatever she was doing.. Why? She was hearing words of life that spoke to her spirit and brought what was dead back to life.. And immediately all that she thought was necessary for her to do, didn't seem that important as sitting at the masters feet.. She got it. And if you get this, for the first time you will be set free from the pressure that society place on you to achieve their definition of success. You will start to see that above all the accomplishments there is only one thing that truely satisfies and that is to sit at The Master's feet.. 

Martha tried to put this pressure back on Mary but Jesus stopped her...The bible called Martha's housework a distraction..Why? Because imagine Jesus came to your house, but you were so busy that He left and you realize that you didn't get a chance to talk to Him or hear what He had to say. You were too busy..We should be concerned about one thing, sitting at Jesus' feet and listening to what He has to say.

NEW LIVING TRANSLATION.. LUKE 10

40 But Martha was distracted by the big dinner she was preparing. She came to Jesus and said, "Lord, doesn't it seem unfair to you that my sister just sits here while I do all the work? Tell her to come and help me."
41 But the Lord said to her, "My dear Martha, you are worried and upset over all these details! 42 There is only one thing worth being concerned about. Mary has discovered it, and it will not be taken away from her."

God Bless..

By Richie Righteous, 2010-02-03
Have you ever heard people say  "the devil tried to destroy my car, "the devil tried to destroy my house," or "the devil is messing with my money." Does the devil really want anybody's car, money or house? When tragedy strikes like the lost of finances, house or a car, is the enemy really trying to steal the car or is there something bigger that he is after? He is after something bigger. He is after the intangible things.
Things like your joy, your peace, your faith in God. He wants to plant seeds of doubt in your mind. He wants you to think that God is not watching over you. His ultimate goal is to destroy the "trust relationship" between you and your God. This is why it is important that our Joy does not come from material things, because when we loose them we will become easily discouraged.The enemy can easily use a situation to distract us. John 10:10 says "The thief cometh not, but for to steal, and to kill, and to destroy: I am come that they might have life, and that they might have it more abundantly."

Make no mistakes the thief wants to obliterate you. In 2 Corinthians 2  Paul discusses an issue and then when he gets to verse 11 he says "Lest Satan should get an advantage of us: for we are not ignorant of his devices." Don't be ignorant of the devices and schemes of Satan. Don't allow your circumstance to blur your vision of your God. The thief is ultimately trying to steal Gods truth from your life. He has been trying to steal God's truth since the Garden of Eden. Don't be deceived by any negative thoughts or words that would make you doubt God today. Let's pay attention to the second part of the verse in John 10:10.  Jesus said "I am come that they might have life, and that they might have it more abundantly."What does this mean? How can one have life more abundantly? The verse is a contrast, While the thief desires to destroy you, Jesus came to do the opposite. He came to save you. Save you from sin, death, the devil, the world, flesh (ourselves.) The believers walk is a walk of faith not sight. So the believers  should only be moved by Gods word. As a believer when situations arises and thoughts of discouragement and despair begins to enter. You begin to feel your flesh start to call for old habits. Living life to the fullest is to overcome sin in that moment, crucify flesh, submit to God, resist the devil. Instead of the circumstance dictating what you should do, you begin to trust God.
Discouragement has to go, you begin to get joy and Peace that the holy spirit gives. You are now living life how God intended. Free from the control of sin. Non-Believers don't understand freedom in Christ. The thief has robbed them. They don't know the shepherds voice. They turn to drugs, clubs, immoral acts and all sorts of things to fix themselves. They allow circumstances to dictate to them how they should live. If they need more money they steal, depressed, they use drugs, lonely they find one night flings. The believer does have trials and tribulations but we don't have to let the circumstances tell us what to do. We don't have to fall into to pits of despair and discouragement. When you trust God one hundred percent you will be blessed in this life and in the one to come. If you are His sheep you know His voice. I believe that the thief has stolen some things from us. Like David's story in the book of 1 Samuel 30. Don't quit. The Bible says that in midst of David's tragedy he encouraged himself in the Lord His God. The story ends with David recovering all the enemy had taken from him. Don't give up. Tell the thief to get out your home, don't listen to the enemies lies. And we know that in all things God works for the good of those who love him, who have been called according to his purpose. Let God be God today...

Now to Him who is able to keep you from stumbling, and to make you stand in the presence of His glory blameless with great joy, JUDE 1:24. He is able to keep you..