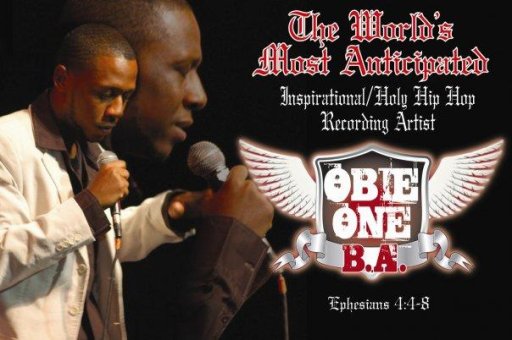 About Obie One B.A.


Virginia has birthed out some of Hip-Hop's greatest Musicians, but something is different about Artist, Song writer, and Producer Obie One B.A. Setting him apart from all the rest is the two letters at the end of his stage name meaning Born Again. It is not an educational level but a way of life that Obie chooses to live. Born in Miami, Florida, but raised as a military brat across the world, Obie One B.A. has spent the majority of his formative years in Norfolk, Virginia. With musical roots in his family from New Jersey to the Bahamas, it wasn't until he moved to Atlanta, Georgia as a second year transfer student at Morehouse College that he would develop a stronger drive for music. Obie One B.A. has been blessed musically for years but never used it for a spiritual or inspirational purpose. After many life changing experiences Obie shares how his life and music has been changed to glorify his Lord and Savior on several of his musical tracks. With a highly anticipated album coming soon titled "Real Life, Real Music, It's My Testimony" Obie One B.A definitely demonstrates that he is truly a new flavor and new style to the listening ear.

Obie One B.A. is nowhere near new to the music scene. His resume stretches back years to his BC (Before Christ) days. Starting off in a group with his brother Markiss Simpson (aka King Markiss) the two performed locally regionally, and internationally as FreekieTwinnz Ent. Throughout the years the hip-hop duo has sold thousands of independent CDs, won competitions, received radio play, and obtained recognition from major recording label representatives. After taking a long break and months after releasing another independent album subtitled "These Tracks Lead to a Change" the two consecutively answered the calls on their lives. Later rededicating their lives, music, and lifestyle to a higher power, the two released a CD under the name Obie & Markiss called "God is Doing Something, Get Wit It". Creating the B.A. (Born Again) Movement in 2007, the two have been preparing separately for upcoming solo projects to inspire the world to be B. A. - Born Again.

As a way of promoting himself as a solo artist, Obie One B.A has performed at a number of venues in the Atlanta area in front of crowds and congregations. Sharing the stage with well known groups such as Platinum Souls, James Cleveland GMWA Mass Choir, The Spirit of Hip-Hop (Hot 107.9)'s DJ Mr. Watkins, and many other upcoming artists, Obie has showcased his talent at places such as his home church, The Love Center, where he is an active disciple, Voices of Faith (Gary Hawkins Ministries), Sweet Auburn Spring Fest, CaJo Lounge of Gospel recording artist Canton Jones, and Riki Brooks Gospel Fest 2007. In addition to performing in Atlanta, Obie One B.A. has performed along with King Markiss at Westminster Baptist Church in Norfolk, Virginia and a yet to aired broadcast for TBN at Set Free COGIC in Panama City, Florida.

Saving souls and making a musical impact in the industry and on lives are Obie One B.A.'s motivation to make music. The drive that keeps him motivated is one day being tremendously successful sharing his musical testimony and the Word of God throughout the world. It is not the words that he speaks; it is not the talent that he shows, but the anointing that God has placed on his life to effect people through his testimony. Obie One B.A.'s music breathes messages of hope, love, happiness, peace, and entertainment. Not only does his music give you positive attributes, he shares problems, issues, and delves into the worldwide Christian struggle (sex). Taking the church to the streets and God to the beats, Obie has that soulful, street, underground, influential, and inspirational vibe throughout his music. In other words it is real life situations, really meaningful music, and the truth of his testimony through song.

Obie One B.A. plans to change the image and message of what the world portrays music to be. He believes that staying and standing on the Lord's promises he will out reach, out sell, and out do any hip-hop artist with a negative influence. Sharing a message that is God given Obie One B.A. looks forward to being an award winning, album selling, spiritually motivating, soul saving, and life changing artist.
Influences
Jesus, King Markiss, and Chinua Hawk
stats: