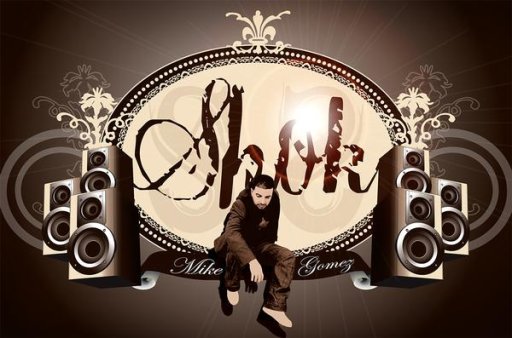 About Michael Gomez
I am a former platinum music producer for Ruff Ryders from 1998-2003. I produced hits for artists like Eve, DMX, Busta Rhymes,LOX,Big Pun,Snoop Dog and many others. Some of the more memorable ones are "Slippin" for DMX, "Imperial" for Rah Digga & Busta Rhymes, "Spit these Bars" for Drag-on, and "Dirty Ryders(Training Day)" for LOX.

Since then I have been in school with the Holy Spirit preparing for the work God has set aside for me. I no longer seek the riches of this world, I am focused on the things above. I am a witness to the unseen.

I am blessed with a proverbs wife my preciosa Erika and two little boys Noel and Daniel. I have spoken at Albright College, PA, Mt. St. Vincent College, NY, and Iona College, NY about the change God has done in my life and the differences between Gods success and the worlds success. I have also performed at Soul Fest in 2006, and have ministered at many outreach events through music and testimony. If you would like me to come and witness at any events please message me.

stats:
By eyewitness888, 2008-04-23
Many modern scholars agree that many of Jesus' sayings can be characterized by paradox.
Paradox: 1: something apparently absurd or incredible that may be true in fact. 2: a statement that is false because it goes against itself in fact. (American Heritage Dictionary)
A paradox is either a false or true statement but it can't be both. The definition forces you to make a choice, it says the statement may be incredible but true in fact or is false because it goes against itself in fact. So a paradox is either true or false. We must decide for ourselves from our own source of knowledge.
A great example of a paradox is "Everyone is unique, just like everyone else."
We know this statement is incredible but true because it is something we can see with our physical eyes but what about when we approach the word?
One of Jesus' teachings was to love our enemies, one scholar can say "enemies that are loved are no longer enemies" while the Christian who has applied this biblical principal can say from experience "absolutely not, I have loved my enemies by forgiving and praying for them but they are not my friends" or ask Stephen (the first recorded martyr in the bible) if when he rejoiced in the Lord and forgave those who were stoning him to death they then became his friends.
Yet this Christian answer is foolishness to the scholar because only by application can one understand such a statement made by the Master.
It is like Jesus locked the jewels of his teachings in a safe every time He spoke. The key to unlocking this safe where the understanding is kept is the Holy Spirit.
Jesus makes these impossible paradoxes possible, loose to gain, joy in suffering, strength in weakness these are the unique and incomprehensible experiences we Christians have the privilege of taking hold of when we are led by The Holy Spirit.
Explaining these truths to those who have made a God in their own image is like trying to explain the color blue to a blind man; it is only the Holy Spirit that can.
We must take the kingdom by violence on our knees. We must move forward with haste while waiting patiently upon the Lord. In the center of all of these paradox's is the way.
These ideas oppose one another just as our flesh opposes our Spirit. In them is the new person we are called to be.
They are the weights on the barbell that strengthens our Soul. We must use them to prepare ourselves for the war within.
The Holy Spirit makes sense of all these opposing ideas and they become the new knowledge we lean on. The new way we evaluate the world. We no longer process with our mind but now we submit our soul to the one who is wisdom. In an age where there are more translations than ever of God's word we should always remember that there is still only one translator.