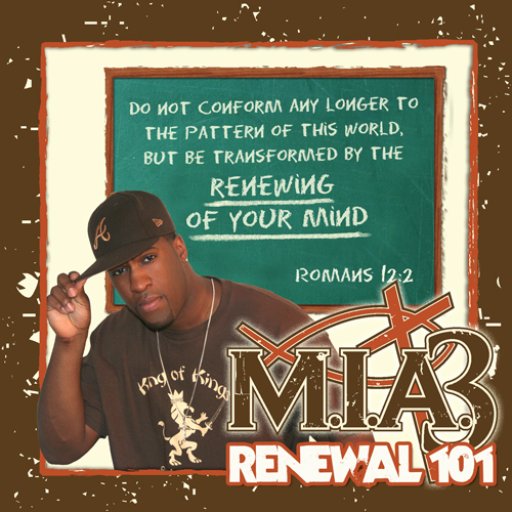 About MIA3
About M.I.A.3
Born in the Chi, raised in the ATL, MIA3 (Minister Isaac Akins III) has a deep connection with the culture of Hip Hop, having lived and breathed it all of his life. This 28 year old hip hop head/pastor/husband/father started emceeing in the lunchroom with his middle school crew in the early 90's, ran off the bus to sit in front of the TV to watch Ed Lover and Dr. Dre on Yo MTV Raps with his N.I.C. crew everyday, and never left the crib without a pen and a pad all of his high school years.
"I've come to the conclusion that I've always bee in love with Hip Hop, but I never really understood how much it influenced every area of my life until I fell in love with Christ. I had to make a choice whether I was going to love God more and let Him show me how to love Hip Hop the right way, or keep loving it my way and watch it slowly die. Man, God doesn't have a problem with the culture of Hip Hop any more than He does with any other culture in this world. He just wants the culture to know, love, and glorify Him, and therefore live and give others life. That's why I write, why I still emcee, and I'm telling you I've never been as cold as dedicated and skilled at the art of rhyming as I have been since I gave the gift over to the Lord."
This June 2007, MIA3 continues his quest to reach fellow heads in Hip Hop culture with the message of Christ through the release of his first full-length project, entitled
Renewal 101
. Based on the passage Romans 12:1-3, this project shows what Hip Hop culture could look and sounds like with a new, Godly perspective on life and spirituality. With production by well-known Holy Hip Hop producer Tony Stone, responsible for such hits as Lecrae's "Jesus Muzik" , and up and coming producers Judah the LyricalRev, AG that Future and Solstar this release is heralded as a bangin, ministry-filled album!
Also pick up MIA3's first critically-acclaimed release,
Living Words the EP
, produced by Judah of Loinheart Productionz and with tracks from A.G. of TrackSmith Productions and Gabriel "Ice Cold" Hudson of Illi Cold Entertainment. Available at
MIA3music.com
.
Influences
Andre 3000, Black Thought, Common, Cee-Lo and Goodie, Mos Def, Phanatik, Da T.R.U.T.H., Kanye, B.I.G., Big Pun, Ambassador
The Remnant Records presents its first label release, "
Renewal 101",
from artist M.I.A.3


Chicago, IL (June 19, 2007) – Independent Christian Hip Hop label The Remnant Records made its debut release this June 8 th , 2007 from its first signed artist M.I.A.3. Hailing from Atlanta, Ga but born in Chicago, IL, M.I.A.3 touched down in the Holy Hip Hop scene last Fall with his debut "Living Words the EP". Received very well as a solid project with "straightforward lyricism that points directly to Jesus Christ" ( Staff Writer LaRosa of well-known website Sphere of Hip Hop.com ), M.I.A.3 returned this Summer with his full-length album "Renewal 101".

"I wanted to put together a project that takes the average Hip Hop listener through a course that would challenge them to look at Hip Hop culture through the eyes of God" says M.I.A.3, who's artist name is just a shortened version of his real name Minister Isaac Akins III, who has been in ministry for over ten years and led a campus ministry with his wife on the campus Illinois State University for five years. "By the end of the album you're able to see how God can speak through the average Hip Hop head to point the culture in the right direction, away from all the booty and bling as my Pastor would say." With contributions from well-known Holy Hip Hop producer Tony Stone ( having worked with such artists as Lecrae, K-Drama, Braille and Trip Lee), as well as up-and-coming producers Judah the LyricalRev, AG The Future, and Solstar this release promises to be a classic Hoy Hip Hop album.


Visit MIA3music.com for more information on M.I.A.3 and his ministry and

to purchase this new bangin release as well as past releases. Also, check the sit calendar for upcoming appearances for M.I.A.3 in a city near you!
For more information, contact: