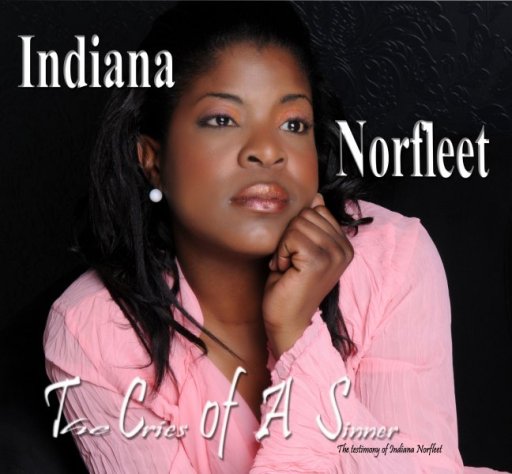 About Indiana Norfleet
Indiana Norfleet was born to Sarah Hall and Junious Norfleet in
Chicago
Illinois
. She was the first of two children and took an early interest in music.

 

At the age of five years old,
Indiana
did her first big performance on stage singing at her church and the congregation gave her a standing ovation.

  
Raised in
Chicago
, she fell in love with music listening to her father and five uncles "The Norfleet Brothers" who sung that good "ole" traditional gospel.

 

On Sunday mornings she would wake up early to watch her father performing on Jubilee Showcase and the experience was very inspiring to her. She later moved to
Indianola
,
MS
where she currently resides. Still holding on to the aspirations of becoming a musical icon,
Indiana
began to nurture and grow the skills she was taught during the early years of her life and began singing for charity events and local churches throughout the Delta.
Starting a new life in
Mississippi
,
Indiana
started a gospel group called, "The Joylettes," and they performed for two years in the
Mississippi
area. Those were the days
Indiana
says, she will always want to remember. She has mentored to adults and young teens in her community, given piano and voice lessons, worked with choirs, as well as singing with them. A true blessing, an angel and life mentor is her mother Sarah Hall. Yes, her mother is one of her biggest fans.

 
Indiana
has been a member of three university choirs,
Alcorn
State
,
Delta
State
, and
Mississippi
Valley
State
.

 

She enjoyed singing in these university choirs because they taught her discipline and contributed greatly to her stage performance skills. Also their rigorous curriculum introduced her to classical music of many languages including but not limited to German, Italian, and French. The experience of traveling and singing abroad will remain with her for the rest of her life.
Her debut album "The Cries Of A Sinner" , is already garnering national and global attention with inspirational songs, such as the hit singles "I Can't Do Without You Lord" and "Living In Troubled Times" .
www.indiananorfleet.com