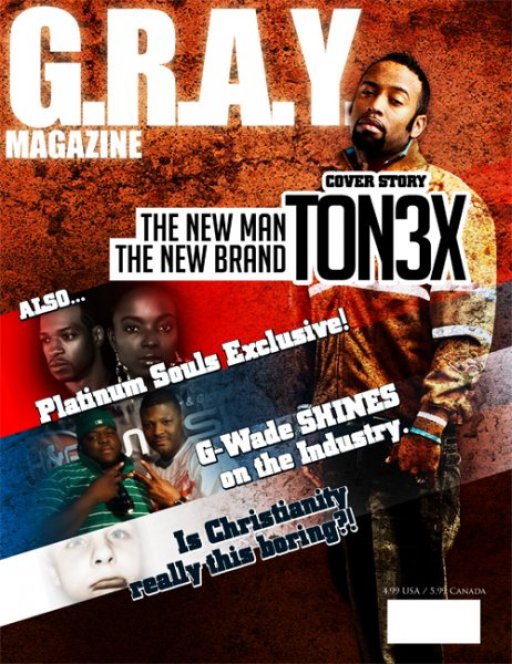 About GRAY MAGAZINE
CURRENT ISSUE COMING SOON: TONEX ON THE COVER!
NEXT ISSUE (November) CHRIS "PLAY" MARTIN & FAITH EVANS
FINAL 2008 ISSUE: TBD

G.R.A.Y. Magazine began as a 24 page quarterly magazine which transitions youth from "regular" Hip Hop to Holy Hip Hop to Traditional Church. We always hear people COMPLAINING about the magazines that young people have to read but no one really stepped up to attempt to make a product that stretched out to them. So when God told us to WE DID! We wanted to be able to compete with Source, VIBE, XXL, Word Up, Hype and the magazines that we grew up reading which were non christian but appealed to us. So we started there? What attracted us to those magazines? Now how can we get the same attraction and then return Ministry on GOOD Soil? I can we fulfill our committment to the commission and commandments? How can we be fishers of men-young and old? Through God's Reach at Young (People), aka G.R.A.Y. Magazine!

Although the magazine targets young demographics there is something for everyone. From our exclusive Saved, Sanctified and Stylish Fashion Section to interesting and informative articles about various subject matters from life (ie: W.O.W. Women of Wonder-Everyday women who have survived abuse, violence and life struggles. How to Be a Virtuous Husband and Is Christianity This Boring?); Finances (ie Why Do Christians Need Life Insurance? and the Entraprenuer's Edge) to Music (The Zone: New Unsigned Artist Section) and SOOOO Much More. We dont look like your typical Christian Magazine...

If you would like to be interviewed in an up and coming issue whether English or Spanish please email me your bio to philatonian@gmail.com.

In January 2009 we will be launching 2 more projects: G.R.A.Y. Latino (a Christian Latino magazine) and Out of Egypt Magazine (a prison ministry magazine).

If you would like to advertise you ministry, business. organization etc there are still a few spots available for the next issue (Early to Mid September). Media kits are available, please send an email and I got you... sponsors and investors lets talk...

To subscribe please visit one of the sites listed above or to order single copies please visit my official website: www.philatonianproductions.com.
Followers:
stats: