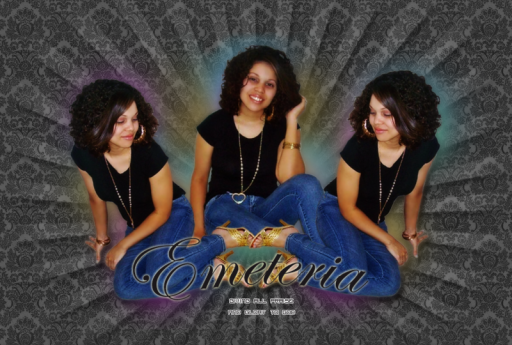 About eMeTeRiA mAe
My name is Emeteria and I love music.  I don't play any instruments, but I have been singing all of my life.  Music has always been a huge part of my life growing up.  God is the reason why I sing and I want to get the Word of God out to those who don't know Him and inspire those that do know Him to listen to God's calling upon their lives! 
My dad is a big part of my inspiration.  When I was little, I remember him singing in the church choirs and always singing solos.  I was so proud to see my dad up there singing for God and I knew that's what I wanted to do for the rest of my life. 
I remember being 8 years old and giving my life to God!  I was baptized and I remember the amazing way I felt from that day on!  As I grew older I knew that's what God wanted me to do. 
I sang in a group with my brothers and sister, then sang in many school talent shows, I sang backup for my dad and performed at many places. 
As I got older, I started to back away from the music and tried to do my own thing.  It didn't work without God.  In that time, I had fallen in love and married my husband of now 4 1/2 years.  We have 3 children together and I am so happy to be a wife and a mother.  God has shown both of us that we need Him to do everything and I am so blessed that my husband supports everything I do for God's ministry. 
Minister Dwayne Anderson who is now signed as a recording artist with Tate Music Group, is someone that I have sang backup for as one of the Heavenly Hosts with my dad and my sister, and we were going to many churches in the Las Vegas area to minister to all walks of life! 
I am now writing songs and preparing my solo project.  I pray that God will bless it and I am so excited and blessed that God has given me the opportunity again, even with a husband and children, to be able to sing for Him!
Influences
Mariah Carey, Rachel Lampa, Stacie Orrico, Tye Tribbet, Kirk Franklin, Mary Mary, Fred Hammond, J Moss, Deitrick Haddon
stats: