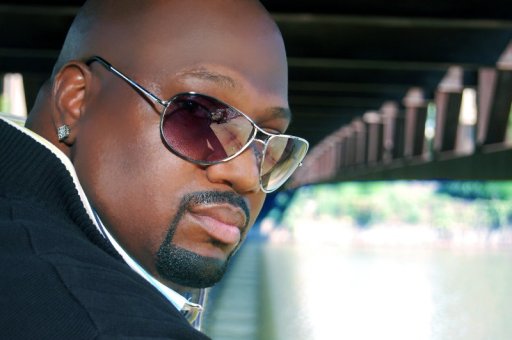 About Dandro
      When you cross a soulful music maestro with a scholar of the teachings of Jesus Christ possessing the voice of an angel, you get Dandro – now.
      A native of Baltimore, Maryland, Dandro's experience as a parent, mentor and Champion AAU girls' basketball coach presents him with the urgency to speak to the future spine of our communities. In a time where hip-hop's two-stepping is more socially acceptable than feeling the power of and being completely overcome by the Holy Spirit enters an artist who describes himself as "just a balanced, God-filled man" whom The Almighty is using to send a message to our youth. A devoted father and community leader, Dandro injects his faith-guided wisdom into as many budding minds as he can, whether while they practice shooting free throws in his driveway or as they stop to speak to him in cliques in his community. And that message is consistent: be a leader; present yourself as the strong, intelligent young man/lady you are; know your history; and do your research. The mentor cringes at the reality that too many young people rely on the negative tones set by "popular music" or perhaps their own lack of self-worth resulting in destructive, and sometimes irreversible, behavior. Not surprisingly, Project Dandro Now is focused on exposing the ever-present issues of youth, namely young men, and how to address these concerns through the power of God.     
      Dandro's Genesis

      Dandro began his career as a member of the gospel group, The Bells of Joy, in the early 1980s. Among many highlights with this group was its accompaniment of music legend Aretha Franklin during her visit to their home church in Maryland. By the next decade, Dandro had begun writing tunes seriously. This multi-platinum ghostwriter and producer entered the realm of R&B in the early 1990s, a time where the northeast region of the country was birthing such brilliant acts as Jodeci, Mary J. Blige and Dru Hill. Initially, he sang in and wrote for an R&B group called Surge. After winning Showtime at the Apollo three times in 1993-94, Surge toured overseas throughout most of Asia, some venues in Canada and numerous gigs in Europe singing cover tunes as well as original work. Such an opportunity placed Dandro's group on the roster with names like Roger Troutman, Mint Condition, Boyz II Men and Gap Band. Post tour, members of Surge craved performing with a "live band," so they joined the established Panama Band and commenced touring along the east coast as well as abroad. Once Panama's tour wrapped, Dandro and some of his former group members merged to become Urban Legend, an even more promising R&B group. Urban Legend signed a record deal with mogul Tony Austin of King Shaw Productions (who spawned the label Chocolate City Music under Def Jam). Once signed to a label, Urban Legend went on to perform hits written by Dandro such as "Millions" (one of many he penned that Dru Hill performed), "Put It On Repeat" (4Life Soundtrack 2007; performed by R&B artist Case) and "Angel." The disbandment of the original Urban Legend led Dandro and fellow group member, Shy, to recruit two new singers: Garfield and AB. Dandro continued writing hit records outside of the R&B group, collaborating with label mate and platinum producer Sean "Moccaa" Banks all the while. Further down the timeline, Dandro and Moccaa's writing and producing capabilities formed a powerful marriage, resulting in thriving records such as "Be With You" by Comp featuring Lil' Mo, "Stick 'Em" by Comp (Def Jam Vendetta Video Game Soundtrack 2005), "Bad Girl" by Black Buddafly (Waist Deep Soundtrack 2006), and various other projects with artists like Yung Joc, Joe Budden, Game, Jim Jones, Cheri Dennis and Paula Campbell.
      Dandro's Revelation

      After the Urban Legend members separated three years after establishment, original members Dandro and Shy (still identified as Urban Legend) expanded their underground club music career under DJ Rod Lee's label, Klub Kingz. The duo's hit single "Girl, Don't You Worry" earned them a strong local fan base that expanded from Maryland to Virginia, Delaware and Pennsylvania in 2002. In fact, their popularity grew so rapidly that Baltimore radio disc jockeys and personality – DJ K-Swift & DJ Rod Lee of 92Q; DJ Technique and Mocha of X105 – recruited them to sing jingles for the openings to their radio programs. Dandro is credited with writing and producing said jingles. DJ K-Swift was such an avid supporter of "Girl, Don't You Worry" that she released it and some of their other popular club songs on her "Club Queen" albums, Volumes 1-4. Similarly, DJ Rod Lee used the twosome's vocals for the introductions to his club banging albums "Operation Start-Up" Volumes 2 & 3. Dandro, strongly committed to remaining a ghostwriter, landed major writing projects with top tier recording artists signed to Warner Bros. Records, Sony Music, Russell Simmons Music Group, Def Jam/Universal, Geffen Records, Motown Records, Island Records, LaFace Records, J Records, Loud Records, and Bad Boy Records in the mean time and published those works through TNC Productions, his own publishing company. His insurmountable talent had his hands in multiple cookie jars all for the love of his craft. In 2003, Urban Legend recorded the remix to "Shorty You Fat" by local club legend Theo, which Dandro wrote and vocal arranged. One year later, Dandro relocated from his beloved Baltimore to Atlanta, Georgia and focused strictly on his writing, producing and vocal arrangements for leading artists in the industry, receiving high music honors as a result, and leaving the performing artist in him dormant for the next five years. In his catalogue that reflects 20+ years in the music business are Adult Contemporary hits like Elliott Yamin's "Wait For You" (2007) as well as those in Pop, R&B, Country, Neo Soul and Rock genres.
      Dandro Now

      While Dandro has always possessed a knack for infusing his musical works with timeless lyrics and unpretentious scenarios and emotions that have captivated listeners, the spiritual vocalist is now redirecting his musical prowess to his "brothers, uncles, & male cousins, neighbors, and mentees." His idea is complex, yet his execution is simple: via inspirational music, educate boys & men about the importance of knowing God and the incorporation of the Divine Entity in all that they do daily. He acknowledges, "As men, we don't pray by ourselves. Too many women are strained by having to take on the male role in their households – it's time for us to take that role back, that our women may submit unto us as we submit unto God" and watch the future of our communities blossom into tighter familial bonds with indestructible foundations. Taking a page from classic gospel singers, the Williams Brothers, Dandro is "sweep[ing] around [his] own front door," beginning the movement at his home with his four children – his motivation and drive. Appropriately, he is already implanting in his 9- and 13-year-old sons their responsibilities as young boys developing into men through Christ and has counseled his young adult daughters in the same Light. Likewise, as a servant to his God, Dandro makes it his business to direct his hymns to all of God's sons & daughters. Such an ambitious pursuit can only be realized by an individual possessing Dandro's determination.     
      Project Dandro Now enables this man of God to unite the most important loves of his life: God, family, community & music.
      Witness the revolution in the name of Jesus Christ.
Followers:

stats: