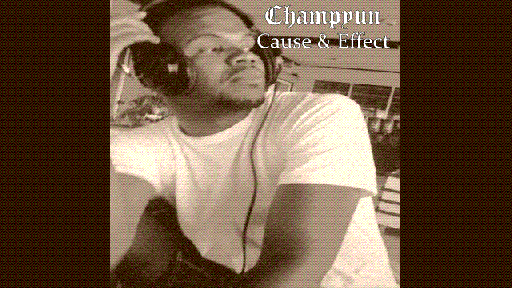 About champyun
"What's the point of having God-given talent if you don't use it to glorify God?"
That's the question that led Champyun into the ministry of gospel rap - ironically, he hates the title 'gospel rapper'
"People hear gospel rapper and automatically assume it's whack" Champ argues "I'm just a rapper who raps about Jesus. If that makes me a gospel rapper then so be it, but if that's the case... what will we call the rappers who rap about money, sex, weed, etc...certainly not devil rappers, just rappers. I am too. I just have a different agenda."
Champyun has been blessed with many talents: Rapper, Producer, Songwriter, Musician (pianist for 16 years), also an unparalleled stage presence. Born as Ellery Sears to a large family in Bedford Heights, a suburb of Cleveland, Ohio, Champ always had a love for music. As a kid he would dance and "go ham" as he commonly says now, at the sound of MC Hammer's "Can't Touch This." Also he'd dance in circles as a child whenever the theme from Young and the Restless came on while his grandmother was watching her soaps.
"I just always loved music. Everything about it!"
Champyun began taking piano lessons in elementary school and was involved in the band music program through graduation in 2005. He would often come home and spend hours composing his own songs. "Alot of it was pretty good given my age, of course now I look back on that stuff and laugh. The Lord has brought me a long way...a LONG way"
During this time he and his family had been regularly attending  Mt. Calvary Baptist Church . At 16, Champ began recieving private instruction from musician and church member James Smith, and eventually he would become the church's pianist. "James played such a major role in my music today. He taught me to play in all keys, charting music, reading chords, and really worked with me to help me grow beyond the fundamentals that I recieved from piano lessons as a kid." And that became life for awhile - School & Church...yet no rap.
Champ always just made music. Instrumental music. "I never saw myself as a rapper or on stage" he laughs "I'd rap and fool around and stuff, but nothing serious"
Champ would eventually befriend Brandon Miller (B-Millz). After realizing they shared the common interest of producing they would spend the next couple years making beats together. "Me and B were like ying and yang on the beat side. I would handle the melodies and harmonies, and he would lace the drums. Our beats had the perfect formula." After building up a large amount of unused instrumentals, Champ decided to put lyrics to some of the tracks - not gospel though.
"Yep, I started attempting to rap sometime between 18 and 19, and my lyrics were far from clean. I mean I wrote some creative lines and metaphors, but the music didn't go anywhere. Plus I was ashamed to let a lot of people hear that stuff - little cousins, my mom, my grandma, ha that wasn't happening. Eventually I put the pen down and stuck with beats."
In 2008, Greg Clark started The Alive Church and requested Champ to help with the music ministry there. Champ agreed and is currently a dual member in conjunction with Mt. Calvary. Clark was a gospel artist and would often hint that Champ should use his gifts for the glory of God rather than the things that the world considers to be important. After strong consideration, during fall of 2008, Champyun decided he would venture from the world of making beats and become a cross-over rapper/producer. This time his music would be solely to lift up the name of the Heavenly Father.
Work began on Champ's debut album "Break the World Record." He and B-Millz linked back up for production and frequent trips were made to the music store to get all the necessary equipment and software for production. The music was flowing again, lyrics were being written, but the project was moving at a slow pace. "Between working 60 hour weeks it was hard to find time to really get work done on the album because I was doing everything myself." Champ explained
Well all that was about to change. Things started going south at work...and before he knew it, Champ was out of a job. Slightly discouraged he maintained his goal to release the album. It was a blessing in disguise, because now there was a surplus of time to pour into the project. It released under no label January of 2009. Following the release, Champ began doing shows all around Cleveland, moving units. With positive feedback from fans all over, it was time to feed off the momentum and start working on his second album for a 2010 release.
He had big plans for the second album and felt the Lord's annointing on him. Plans for the second album were underway when Champyun's music caught the attention of Oklahoma City Indie Label, Tate Music Group. They were interested in signing Champyun, to represent his music and to produce, promote, and distribute his second album professionially. God is good and answers prayer. Champyun's 2nd album (actually it will be considered a debut), The Winner's Circle was released August 2010 under TMG.
"All this music just comes out of no where...well not no where, I know where it comes from. I tell people when I'm performing, don't focus on me. God writes all the lyrics and makes all the beats and spits all the flows. He just does it through my hands, ears, and mouth." - Champyun
stats: