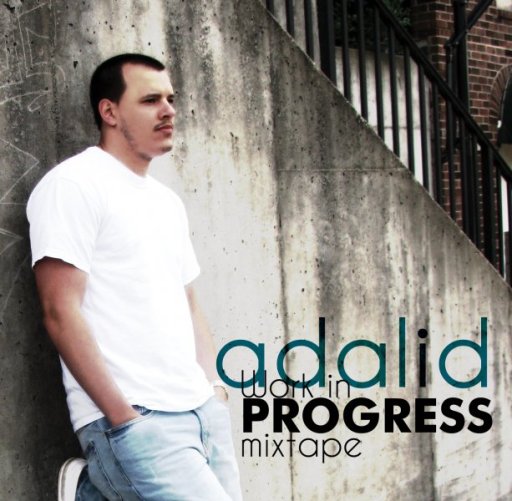 About A.D.
Welcome to Adalid's site
 aka "A.D."
Born and raised in New Orleans, Louisiana,  Adalid was just like any other young aspiring Hip Hop rapper. His intentions were to make money, make it big and make a name for himself. His early years started off by just free styling at lunch time and battling other rappers after school. That eventually grew as he started to get noticed and respected for his lyrical talent. Not soon after, A.D. began recording mixtapes and distributing them in his local city in hopes of landing a record deal. It wasn't until he got born-again, that he understood why he was giving such a gift and for what purpose. On June 4th 2005 A.D. had an encounter with God while attending a funeral for a high school friend. He experienced the tangible presence of God for the first time in his life and was changed forever. Two months later New Orleans was devastated by one of the worst distasters to ever hit the United States, Hurricane Katrina. A.D. was faced with a tough descision to make, whether to stay and wait it out or to move far away to safety. He chose to listen to that still small voice telling him to leave which he knew was God's. Forced to move away from his family, friends, and city, he knew deep down that God had a purpose for his life. After Katrina , He and his wife moved to New Albany, Indiana where his brother-n-law lived and started getting settled there. They both thought about going back to New Orleans, but God revealed to them they needed to stay. After living in Indiana for a year A.D. moved to Louisville, Kentucky to be closer to the church he has beed called to...On Fire Christian Center. He submits under the leadership of his pastor, Pastor Chuck Salvo and has been for 4 years now. A.D. is also heavily involved in the youth at his church and persues his music goals with the right intentions now, strictly to propagate the Gospel and advance God's kingdom . He has been doing music ministry for 4 years now and God continues to bless it and expand it as he follows God's plan for his life.

Over the years A.D. has share the stage with artists such as....K-Drama, Street Pastor, Von Won, Dre Murray and Tedashi. He has recorded two c.d.'s already and is in the process of making a mixtape entitled "Work In Progress", set to release summer 2010. Thank you for your prayers and support, God bless!


Godset!
Influences
Da T.R.U.T.H., Lecrae, Trip Lee
Followers:

stats:
| Sun | Mon | Tue | Wed | Thu | Fri | Sat |
| --- | --- | --- | --- | --- | --- | --- |
| 25 | 26 | 27 | 28 | 29 | 30 | 1 |
| 2 | 3 | 4 | 5 | 6 | 7 | 8 |
| 9 | 10 | 11 | 12 | 13 | 14 | 15 |
| 16 | 17 | 18 | 19 | 20 | 21 | 22 |
| 23 | 24 | 25 | 26 | 27 | 28 | 29 |
| 30 | 31 | 1 | 2 | 3 | 4 | 5 |