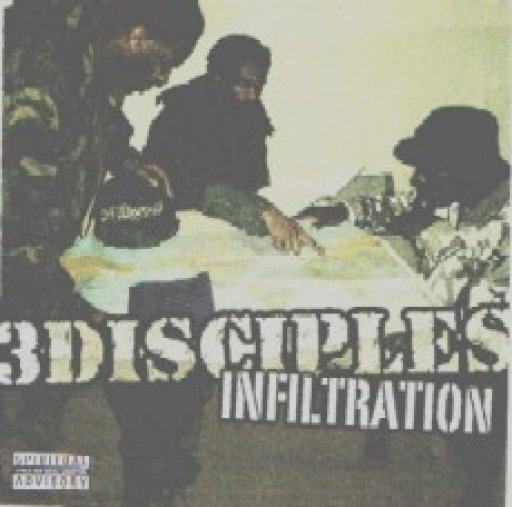 About 3disciples
3 DISCIPLES ARE THREE OF THE BILLIONS OF DISCIPLES MINISTERING THE WORD OF GOD.

THE GROUP IS COMPRISED OF SWING: THE SPIRITUAL IMPLEMENT, L. O. B. AND SURGEON.

THESE ARTISTS UTILIZE THEIR TALENT IN THE GIFT OF RAPPING TO MINISTER THE WORD OF GOD THROUGH JESUS CHRIST.

THIS ALBUM, INFILTRATION, IS AN AWESOME COLLABORATION OF THE GOSPEL OF CHRIST AND HIP HOP MUSIC CALLED MINISTRY OVER BEATS.

INFILTRATION CONTAINS SOUL STIRRING LYRICS AND UPLIFTING BEATS AS THE ARTISTS MINISTER THE GOSPEL OF JESUS.

ON THE ALBUM THE ARTIST SHARE SOME OF THEIR TRIALS AND THE MANY FACETS OF COMING TO KNOW JESUS WHILE ENCOURAGING ALL WHO LISTEN.
INFILTRATION IS A WONDERFUL ALTERNATIVE TO SOME OF TODAY'S MUSIC.

THE ALBUM ALLOWS THE LISTENER TO BE UPLIFTED SPIRITUALLY AND STILL ALLOWS THE LISTENER TO ENJOY THEIR CURRENT STYLE OF MUSIC AND HIP HOP BEATS.

INFILTRATION IS A GROUND BREAKING STYLE OF MINISTRY AND MUSIC!
stats: