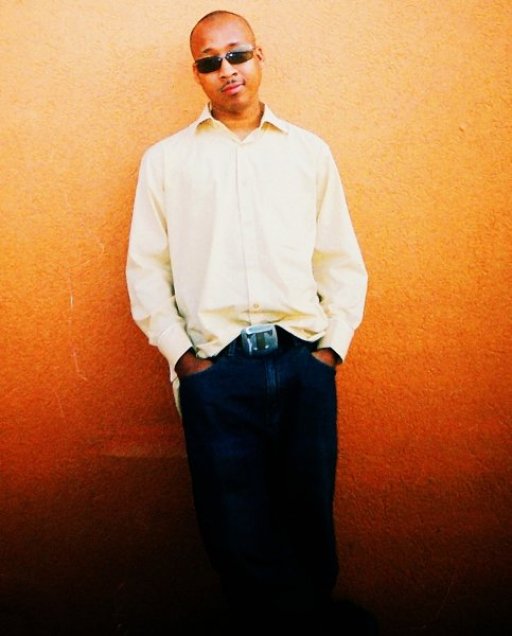 About Titus
A SPECIAL WORD TO YOU FROM TITUS' PASTOR,
PASTOR ANTONIO THOMAS:

My dear brothers and sisters in Christ,

I write unto you as a witness to the sound mind and doctrine of my brother in Christ, Titus Daugett.  Brother Titus has a loving relationship with our Lord and Savior Jesus Christ and a unique passion for His church.  His fruits, demonstrated by his impeccable integrity and humble obedience to God, reveal the indwelling and continual infilling of the Holy Spirit in his heart.

Brother Titus is an accomplished vocalist and teacher who has been anointed from on high with the ability to usher in the presence of the Holy Spirit and to rightly divide the Word of Truth. He is a skillful vocal coach and musical coordinator.  His ability to compose, arrange, teach, and sing beautiful music unto the Lord is like none other.  His music articulates the soundness of the Gospel of Truth and describes the practical aspects of Godly living in a way that is effectively relevant to this generation.  As a teacher he is able to dissect even the most complex theological concepts and present them with such simplicity, accuracy, and charisma that he leaves his hearers with a burning desire to hear more and more of God's Word.

I have the honor of being the pastor of this anointed man of God and I am a witness that he is a member in good standing of Freedom Christian Church where he serves as a teacher to our young people, as a vocalist in the Worship Arts Department, and as one of my closest advisers.

Brother Titus is indeed a great asset to the kingdom of God and a great threat to the kingdom of darkness.  I am convinced that this brother, my brother in Christ, has been called and qualified by God.  Please receive him in the name of Jesus Christ our Lord.

If I can be of any assistance, please feel free to contact me.

Yours in Christ Jesus,

Antonio Thomas, Senior Pastor
Office: 770-491-3780
Mobil: 404-229-7409
Email: Athomas@freedchristian.org

Freedom Christian Church
4661-C Hammermill Rd.
Tucker, GA 30084
WEB: www.freedchristian.org


TITUS' BIOGRAPHY:
Titus has performed "The National Anthem" for the Orlando Magic, Atlanta Falcons, Atlanta Hawks, Atlanta Glory, and numerous City of Atlanta events.  He has competed and won 1st place in well known music seminars and competitions such as Babbie Mason's Music Seminar and Competition and The Christian Artist's Music Seminar and Competition in the Rockies.  Just recently, Titus was a featured artist at the closing night concert of the "NO MORE DIRTY" PURITY CONFERENCE FEATURING DONNIE MCCLURKIN in Huntsville Alabama, won first place in the final Who's Got that Vibe new artist competition at Cafe 290 in Sandy Springs, GA, sang "That Name" (the final closing musical number in the stage play, "King of Glory") at the Atlanta Civic Center, and was a featured Artist in the "Atlanta Gospel Choice Awards" at the Georgia International Convention Center. Titus has been singing across the country and in Atlanta venues for over 10 years.

Blending Classic Soul, Contemporary R&B, Hip Hop, and Pop music, Titus has created a musical style that has an appeal over all the major musical genres in American music including Christian Music and Gospel. With his amazing raw talent, his passionate conviction, his self discipline, and his uncompromising vision, it is easy to see that Titus is the world's next great Superstar.

Titus has been given a very peculiar gift to control a "natural" vocal range from 1st tenor to 1st soprano!  And he uses his incredible vocal range with the delicacy and skill of a true master. When he sings you can feel his very heart and soul. He's the kind of artist that brings about those goose bumps every time you hear him sing.  It is simply amazing to see this in action when he performs in front of an audience.  As he sings that last soaring note, the crowd (both young and old) unconsciously and instantaneously rush to their feet with screams and thunderous applause.  It happens every single time he steps on a stage to sing! He leaves people in complete awe after his performances.  People have never experienced anyone quite like Titus. Once the world gets to see him, Titus will be known as one of the greatest male vocalists of our time.

If that weren't enough, Titus is an unbelievable songwriter too! His melodies and lyrics make music say things it hasn't even said before. Being a Christian with great conviction, his music uncovers the pains, the struggles, the love, the joys, the lessons, and the decisions he has made in his life by such conviction.  His faith and passion is expressed through his songs with such heart and realness that anybody who listens can't help but to feel it and be moved by it.  Titus' music reveals how he has striven to do what is right in the everyday realities of life. And that is what makes him different from many of the other great artists in the music industry. While many gospel artists are encouraging people with general topics like "You Can Make It", "The Lord Will Provide" or "The Lord Will Be There Right On Time", Titus uses a more specific approach. He understands that this world is accustomed to explicit information. So, Titus explicitly details how he lives as a Christian by exploiting the most intimate areas of his life with his music.  Whether it be his relationship with his wife or his past struggles with various sins, there is no area of Titus' life that his music will not uncover as an example of how he lives to do what is right in this world.


THE TEACHING MINISTRY OF TITUS

Ministry to the Youth -

Titus takes on the issues teenagers and college students are confronted with everyday; sex, family, relationships with the opposite sex, and the many other things that concern our youth. Using his own life experiences and the Word of God, he tackles these tough issues head on.

Titus' wife, Rashatta, adds to his ministry her gift to minister to young women. Being a true example of a virtuous woman, she is able to effectively teach our young women how to live righteously as teenagers. Rashatta brings powerful and intimate personal testimonies that bring what she has to say directly to their hearts.

By being honest, transparent, and straight forward, Titus and Rashatta use their testimonies and God's Word to teach our youth how to please God no matter what the situations or challenges they may encounter in their world.

Ministry to Singles & Couples (Marital Preparation and Marriage Ministries)-

When ministering to single Christian adults, Titus teaches those desiring to be married how to prepare themselves for marriage using the Word of God. Depending on the setting, Titus and Rashatta will separate the men from the women in order to deal with issues that are more sensitive in nature. Their ministry to the singles is truly powerful and effective in preparing them for marriage.

When ministering to couples, Titus and Rashatta teach the biblical principles of marriage. In doing so, they teach married couples how to separate cultural perspectives on marriage from the biblical teachings of marriage. Titus and his wife use their testimony and the Word of God to teach and encourage married couples how to please God and their spouse in order to maintain healthy and happy marriages.

Though Titus specializes in youth and marital teaching, God has given him the gift to teach on many different subject matters that relate to the body of Christ as a whole. Having Titus as a guest speaker at your event or church would be a tremendous blessing to your audience or congregation. 
Followers: