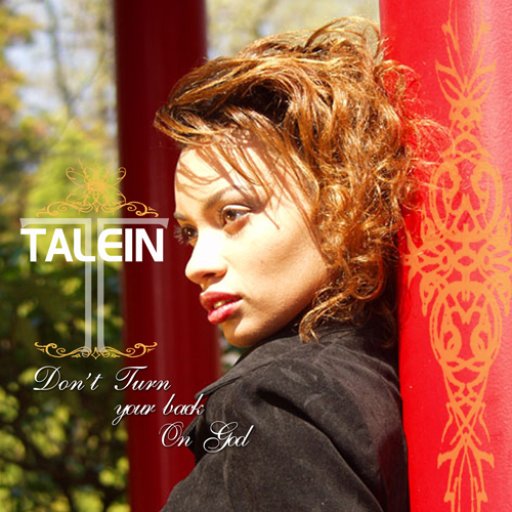 About Talein
Kia Talein DeJan born Kia Talein Anderson is a native Washingtonian. The Angelic Song Bird, is soaring to new heights with her Debut CD, "Don't Turn Your Back on God." This CD, provides the listener with thought-provoking lyrics, energy and emotion, was co-written by La-Tina Smith and Talein and produced by Jamar DeJan. We pray that the powerful messages ministered in our songs will have a positive impact on the lives of people of all ages worldwide.

Whether performing for one or one million, Talein is excited to share the good news through gospel music. While living in Atlanta, GA, she was a featured psalmist on Trinity Broadcasting Network (TBN) and The local show "Praise the Lord". Talein was also featured as the up and coming gospel artist on the Candi Staton show, "Say Yes", on TBN. She has also been blessed to minister in David Talbert's gospel stage play, "What Goes Around Comes Around", Toni Foreman's gospel musical stage play, "Thy Kingdom Come", which she recorded the Compact Disc Soundtrack, "Thy Kingdom Come". She was featured on the song "We Need to Hear from You" from the Compact Disc Brandon Broadnax & Co., a Washington, DC gospel group. Talein ministered on the Main Stage located on the Washington National Mall for the 19th Annual Black Family Reunion Celebration in her hometown Washington, DC. She has ministered in conferences and special services. Talein was the special guest artist for Best-selling Author, TV Advice Expert and Inspirational Speaker Dr. Grace-Livingstone annual relationship conference. She graced the platform with such ministry greats as Rev. Dr. Cynthia Hale, Rev. Dr. Elaine Flake, and Rev. W. Darin Moore just to name a few.

Talein gives her heart and soul in her music, and her relationship with Christ is evident. This is the beginning of reaching the world with God's love through her musical gift. God has much more on the horizon for her, and we just await to see what that will be.
Influences
Yolanda Adams, Karen Clark-Sheard, Whitney Houston, Mariah Carey, Teena Marie, Patti Label
stats: