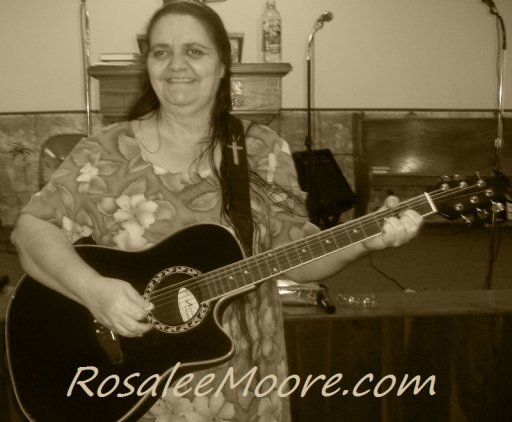 About rosaleemoore
Rosalee Moore is a Southern Gospel / Country Gospel Songwriter and Performer from the bluegrass state of Kentucky. She was born in Jackson May 3, 1954 to George Lee and Rosella Moore. She is the oldest of seven children two brothers, Ricky and Ova, and four sisters, Judy Ann, Mary Jane (deceased), Margaret Helen (deceased), and Dorothy Mae (deceased). She also has four children, Earl, Sabrina, Joseph (deceased), Melvin and two grandchildren, Roger Dustin and Josolyn Snow. Rosalee was raised in a christian home. Her dad played lead guitar and sang in church. He had a massive heart attack in February, 1984. Even the doctors didn't know if he was going to survive it. The people in Rosalee's home church were praying for him. Her dad got better and came home. A year later, he went to be with the Lord, ironically, it was on February 18, 1985. God had spared her dad for another year. Her mom is still alive and is still serving the Lord. She is in her late seventy's. Shortly after Rosalee's dad died, she began writing songs for the Lord. She has written over a hundred songs. She thanks God for each one of them. She says we can do nothing without Him but with Him ALL THINGS ARE POSSIBLE.
Influences
Jesus, George Lee Moore (dad)
Followers:
stats:
Jesus is Born- A Christmas Song About Jesus Birth (Official Audio Video)
Category:
Duration:
Description:
Jesus is Born- A Christmas Song About Jesus Birth - Audio Video Listen to Full Song at:
https://spoti.fi/3QIQjVn
Subscribe to ...
Tags