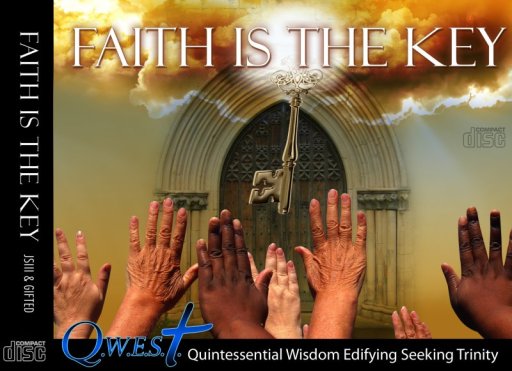 About Q.W.E.S.T.
Some musicians begin their bands and their record labels in a home garage, or basement studio, but Joseph "JSIII" Smith III, driven by his passion for making music, began while a Sophomore at Purdue University. A native of Miami, Florida, who has lived in Georgia since 1994 has a long history of involvement with the music business. A Disc Jockey on college campus and in night clubs around Lafayette, Indiana and Atlanta, GA who continued in the business as an "on air personality" at Radio Station WRFG-89.3, in Atlanta, Georgia. JSIII, founded Mindstate Entertainment Records in 1995 and assisted the careers of several independent secular artists. Music is in his head, hand, feet, heart and mind. He is connected to his passion. In music, he finds his joy, his peacefulness, but secular music was not his calling as being an instrument for the word of God has taken over. Today, JSIII proudly professes the most high, Lord and Savior Jesus Christ as his sole inspiration for living. His God giving talent to write/produce/perform music to minister the word and spirit filled messages has shined brightly. Recently married to his wife Sharon with children Letisha, Alexandria, and Ronny he lives for God and his family. He proudly attends Christian Fellowship Church in Warner Robins, GA, whose founder and Pastor is Bishop Harvey Bernard Bee, where he currently resides. For this artist/producer/songwriter, a new independent record label "Prophetic Entertainment Records" was created with Michael "Gifted" Upshaw. This newly formed label will be an outlet for Gospel/Positive messages with a strong emphasis on the business side of the industry, whereas most artists concentrate on performing. "To maintain longevity in the business, artists must have knowledge of all aspects of the business, which will allow artists more creative control, and an outlet to pursue other facets of the industry," states JSIII. Michael Upshaw aka "Gifted" was born and raised in Detroit, MI. By the time he became a teen aged boy, he'd already faced many challenges and hardships. With God's love, mercy and strength he was able to overcome more than most people would ever have face. With drugs, violence and death being rampant Michael joined and served honorably in the United States Marine Corps. He is a devoted, loving husband to his wife Priscilla and a wonderful, nurturing father to their three children; Imani, Michael Jr. and Isaiah. They currently reside in Atlanta, GA where they attend Trinity Chapel, pastored by Bishop Jim Bolin. God has commissioned and enabled Michael, aka "Gifted" to minister through music. His lyrics are anointed by God and identifiable. He, through the leading of the Holy Spirit, is able to reach the often unreachable. God has ordained "Gifted" and "JSIII" to form "Q.W.E.S.T." (Quintessential Wisdom Edifying & Seeking Trinity). They are passionate about the calling that God has placed on their lives and are determined to fulfill His perfect Will. Their mission: to win souls for God's kingdom through their music and lifestyle. Music helps us create many emotions, to enjoy life, and to relax. "At Prophetic Entertainment Records, we have the unique opportunity to impact our world with many positive contributions in the future. We stand poised to teach and entertain worldwide audiences taking all forms of Christian music to a higher level and keeping it there as a focal point not a side bar." "Keep it Moving in Faith"
Influences
All Christian music for and about the Trinity
Followers:

Guestbook
You must be logged in to post to this guestbook!