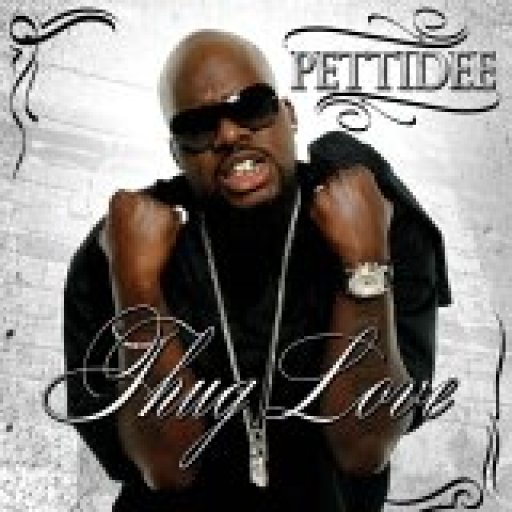 About Pettidee
About pettidee
ABOUT PETTIDEE

It's an undeniable fact that southern rap is now more predominant in hip-hop than ever before. On every block and in every suburb, you can feel the pounding dirty south bass bumping in the neighborhood stereo. Gritty emcees shout their rhymes over heavy beats, almost challenging you to disagree with them. Unfortunately, southern rap has almost become a clichZn hip-hop, and is now a genre that is in desperate need for someone to reinvent it's game and bring back originality.

Here to confront the industry is Pettidee, an emcee who demands your attention as he brings southern hip-hop like it's never been brought before. If his music doesn't spark your soul, his driven and focused personality is sure to turn your head. We're talking an incredible mic presence. We're talking an incredible street presence. We're talking an incredible club presence. We're talking legendary material, and when an artist like Pettidee speaks, the listeners will lend their ears. Listeners get ready, because Pettidee is ready to speak, and he's going to speak louder than he has ever spoken before. Enter the album Thug Love, a southern hip-hop masterpiece for our time. "This album is my heart," says Pettidee. "This is the most lyrical album I've ever recorded because we wanted it to be effective."

Growing up on the streets of Jacksonville has given Pettidee much to address through his music, and Pettidee comes strong on Thug Love, giving listeners a deeply personal viewpoint into his life, music, and ministry. It is impossible to ignore the message in the songs, Pettidee has made sure of that. His musical style is gritty, born in a brutal gang environment but ultimately redeemed and renewed. In the midst of a torn childhood and a broken life, God touched Pettidee's life and brought him out of the struggle slowly but surely. With such a powerful testimony, Pettidee is confident in his life's work, and isn't afraid to say so: "I've always been aggresive and I'm gonna do what God has called me to do... my purpose is to show you the love of Christ. I want to be like Elijah, encouraging other people and standing up for God. I've made up my mind to never give up."


About the album "THUG LOVE"!

There's no doubt that Thug Love will communicate Pettidee's message with a calculated vengeance. "Thug Love was my very first album where I critiqued my lyrics by letting other people analyze them. I was initially offended by outside criticism, but after getting over that the album just began to flow. From that point on I made up my mind that this album was going to be next level. I focused more lyrically, rewrote songs, and nitpicked the beats," explains Pettidee. In short, this album is a top-notch effort the whole way through.

From the dirty south anthem "Stepped On" to the street knowledgable "Huh Man", Thug Love is a complete and focused album from the first track to the last. Leading the way are the lead singles, already poised to take radio by storm; "Glide Aside" and "Don't Stop" are the perfect introduction to Pettidee's persona. "Glide Aside" is his message to the world: don't try and block my mission, just step aside and let God and me go to work. "A lot of people let other people stand in front of them and hurt them. I'm telling those who try and stand in front of me to step out of my way," states Pettidee. "People can relate to what I say; it's no different than when Jay Z said 'brush your shoulder off'." And when you begin to witness the passion and commitment of Pettidee's heart, the thought of encroaching on his goals won't cross your mind.

As you continue to move throughout the intense soundscape of Thug Love, you'll encounter Pettidee's second single, "Don't Stop". "Don't Stop" is a song that is guaranteed to stay around for a long minute. With an incredibly catchy hook and an irresistible beat, "Don't Stop" is set to become an instant party mover. "When I hear 'Don't Stop' I want to party," agrees Pettidee. "I want to jam, and I want to have a good time. When people listen to 'Don't Stop' and hear the hook, they get a smile on their face."

But as we all know, life's not a party all the time, and Pettidee covers all of the angles on Thug Love. A perfect example of Pettidee's versatility, the song "Butterfly" deals with two very difficult issues facing us today: physical abuse and spousal abuse. "The song 'Butterfly' deals with my past and a lot of things that the church doesn't address," says Pettidee. "I made up my mind a long time ago that if God gave me this music, I'd be a voice for those who don't have a voice." Another emotional cut is "Can't Make It Without You". "It's a song for my wife, and it's the first one I've ever done for her," Pettidee explains. "A lot of musicians don't understand that they can't make it [through life] without their wife, and I wanted to acknowledge that."

If you are someone who wants life in their music, Thug Love will take you to the next level, both musically and spiritually. And this isn't just true of one song, Pettidee's whole record is full of a diverse range of musical influences that can reach a broad audience. Pettidee speaks on his market appeal: "Thug Love is versatile. If you sit down and listen to a Pettidee record you'll hear party jams, serious songs, crunk songs... no matter what you like there's a song on there for you. You can tell my roots are in the South, but my music takes you all over."

Throughout Pettidee's long career as an artist and producer, he has worked and performed with many different artists, not to mention running his own independent label, Soldier Sound Productions. He has recorded and produced extensively with GRITS, arguably the most popular group in Christian hip-hop. Pettidee has produced tracks for GRITS' last four records, as well as being featured in the music video for the GRITS song "Hittin' Curves", which was recently added to rotation on MTVU, BET, and MTV2.

But Pettidee isn't confined to only one area of musical influence. He has also contributed to the music of many other well-known artists and groups, including Beatmart Recording artists Japhia Life and Rob Hodge, Gotee Records artists 4th Avenue Jones, DJ Maj, and Verbs, EMI Gospel R&B singer Antonio Neal, former Forefront Records artist Lil' iROCC Williams, Soldier Sound Productions artists Preacher Boy and Big Baby, 5e Entertainment rapper IZ, and underground emcee Urban D.

Not content with simply sharing the recording studio, Pettidee has also shared the stage with many artists over the years. Throughout his extensive touring, Pettidee has been seen live alongside platinum-selling and best-selling artists such as Mary Mary, Ton T-Bone, GRITS, J. Moss, Canton Jones, The Katinas, The Cross Movement, Sup the Chemist, Sean Slaughter, Mr. Del, and Shei Atkins. Pettidee is not without general market exposure either, and has performed on the same stage as rap superstar Master P and mainstream artists such as Thrill Da Playa and Trina.

All of Pettidee's performing and recording have contributed greatly to Thug Love, an album that raises the bar for Beatmart Recordings, Christian hip-hop, and even southern hip-hop as a whole. Beatmart Recordings and Pettidee are giving us southern hip-hop like Nelly gives the radio hit songs, as Pettidee brings us a sound that's often immitated but rarely done so fiercely. And who better to express Thug Love's impact than Pettidee: "This album is gonna really make history. It's been a long time coming."




Followers:
stats: