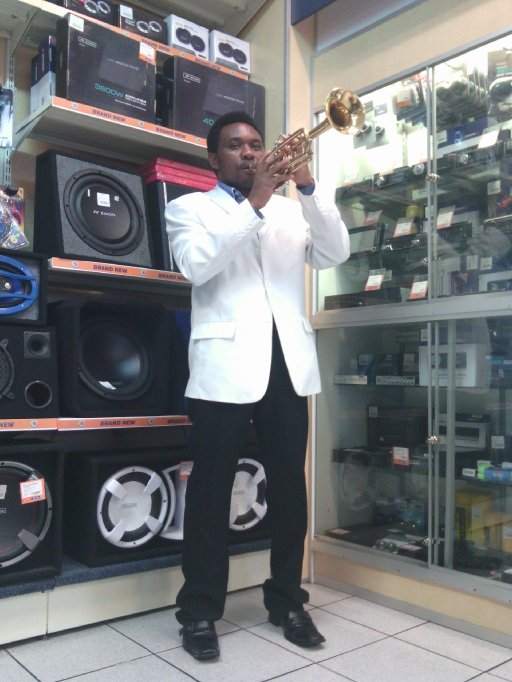 About bro mcjohn
 Biography of 'Bro mc john  (gospel artist, evangelist, sound engineer and video editor).
My name is john Nwadike POPULARLY KNOWN as (Bro mc john) I'm ORIGINALLY from Nigeria living in Cape Town South Africa. I was born in a small village  in ngor okpala, called umuofor obike, in owerri, imo state, Nigeria. After my high school in 1988, I went to live with my uncle in FCT, federal capital territory Abuja Nigeria. There I worked as an office assistant in building and Civil Engineering Construction Company. During my time in living in FCT ABUJA, I MET SOME FRIENDS WHO WERE INTO CARNIVAL AND OPEN MIC COMPETITION, I was enthusiastic about their performances with backing tracks on stage. Then I started participating into hip hop rapping practice, which prompted me to love the genre and mime with other rappers  lyrics and sing along with their beat.
In the mid-1993, I organized a rapping context were award was given to the best performer, both male and female singers participated in order to win an award, but I did collect entrance fees of -fifty naira-(N50.00), and an award was given to the best performer, up to 1ST to 3RD POSITION did received an exorbitant prize from me at that time.
 After I left FCT ABUJA, in 1995, I TRAVELLED TO NAMIBIA IN SOUTHERN AFRICA REGION, and I visited Angola, Cameroon, Congo Brazzaville, in Namibia, I was involved with other musicians and we did rap and sing at community radio STATION in Namibia, called KATUTURA COMMUNITY RADIO, IN 1996.  THERE IN NAMIBIA I JOINED A GROUP BAND CALLED HIDDEN TALENT,  I BECAME THEIR LEAD VOCALIST AND RAPPER, I WAS ABLE TO LEARN HOW TO PLAY GUITAR AND KEYBOARD AND WROTE MOST OF LYRICS WHILE STILL WITH THE GROUP' THAT I LATER CONVERTED INTO GOSPEL TRACKS. AFTER I DESIST FROM THE BAND AND STARTED DOING MY OWN WORK BY WRITING MY OWN SONGS,  .After I left Namibia 2001,I WENT BACK TO MY COUNTRY , THEN I WENT TO LIVE IN SOUTH Africa , I was living in Durban at that time IN 2001  , I normally went to contest with other artist at BAT CENTRE in Durban where all artist wrestle against each other WITH OPEN MIC COMPETITION and free styling, after I searched for greener pasture I left Durban and went to live in  cape town, there I normally performed at the restaurant with my guitar IN 2005, IN 2006 I JOINED  MUSICAL GROUP CALLED MIX CULTURE IN JOE SLOVO CAPE TOWN SOUTH AFRICA , IT WAS A COMBINATION OF VARIOUS ARTIST WITH DIFFERENT LIKES OF MUSIC GENRE THAT MERGED TOGETHER TO BRING THEIR INPUT IN PERFORMING ART AND LYRICAL COMPOSITIONS, THE GROUP DID NOT LAST DUE TO INCONSISTENCY  AND INAPPROPRIATE BEHAVIOURS AMONG  MEMBERS THAT SEPARATED THE GROUP , BECAUSE EACH MEMBER WANTS TO BE IN CHARGE, THEN I LEFT THE GROUP AND STRIKE SOLO  and in the mid 2007 I went to voice training at jazz college in cape town , in 2008 I gave my life fully to the lord, I became a full born again Christian , I got an inspiration from  the spirit of GOD TO PROFESS THE WORD of God through my lyrics.
 I got baptized and got immersed by the Holy Spirit and started visiting churches and preaching the gospel both on the streets, clinics,INSIDE train, even on Facebook and twitter of which I got lots of followers who are inspired by the messages I proclaimed.  In 2011, I launched my first album called Jesus in me, I had lots of air plays at Christian radio station like online radio (pulse radio 87.9 FLORIDA USA)KEEP PLAYING MY MUSIC ONLINE EVERYDAY. AND tygerberg  CHRISTIAN radio which gave me live interviews, as well as radio zebonele at khalitsha radio CAPE TOWN I had live interviews and radio air plays. 2013 to 2014 I went to VARSITY school of Multi -media and creative ART, to study sound engineering and video editing, I learnt to work on pro tools 9/10 and Cu base 5/7, I can edit movies with sound effects and score any type of music GENRE including trance beats, hard house and others, I can score any type of music so long I can hear the breath of the sound. 
IN JUNE 2016- I PRODUCED A BEAT BY ONE OF ETV CONTESTANT ON SA GOT TALENT WHICH WAS APPROVED BY ETV.  NOW I RUN MY OWN HOME RECORDING STUDIO,WHERE LOTS OF ARTIST COME AND RECORD THEIR BEAT  AND SUCH LIKE  MIX TAPE,COVER SONGS AND VOICE OVERS  BOTH INTERIOR AND EXTERIOR DIALOGUE CAPTURING FOR ACTORS ON SET.