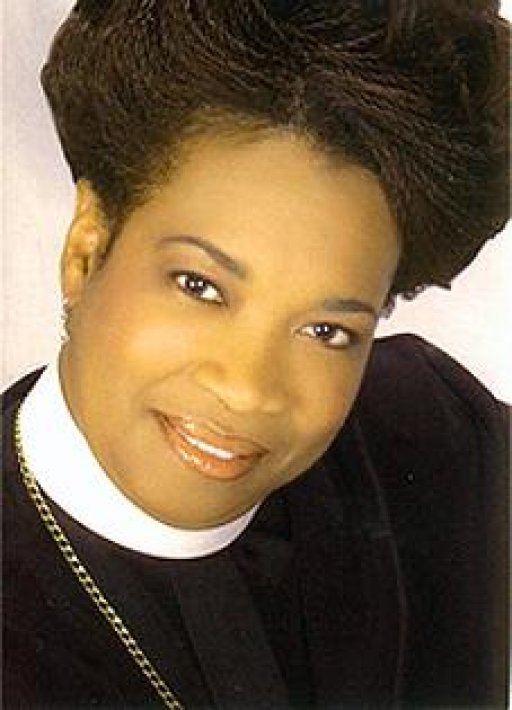 About Bishop Corletta J. Vaughn
Apostle Corletta J. Vaughn
has been a trailblazer and forerunner among women in ministry for the last thirty-two years.

 

From answering the call of God in 1974 to her elevation as a Bishop on November 5, 1995 in the West African country of Nigeria; God has used her life and ministry to impact the Body of Christ and serve a death blow to the kingdom of darkness.
Dr. Corletta J. Vaughn
is the Senior Pastor of the Holy Spirit Cathedral of Faith and Apostle of Go Tell It Evangelistic Ministry, Worldwide. Within the scope of oversight, she has poured herself into the lives of congregations and constituents by the uncompromised preaching and teaching of the Word of God.
An advocate of scholarship
; Bishop Corletta J. Vaughn had completed Nursing School (BSN), when the Lord's call came. She furthered her studies and graduated from William
Tyndale
Bible College (Farmington, MI); McCormick Theological Seminary (Chicago, IL) and Oral Roberts University (Tulsa, OK), having received both Bachelors and Masters degrees.

  

The Doctorate of Theology was conferred in 1994 by Christ for the Nations Institute of Benin City Nigeria.
Born to Christian parents (Rev
. Henry and Mother Jessie Lewis), she learned of Christ and his love at an early age.

 

Her initial call at age 4 to worship and minister began under their tutelage and was nurtured in the Green Grove Missionary Baptist Church of Detroit, MI.

 

She was ordained to the Gospel Ministry at the Holy Ghost Missionary Baptist Church in 1981, under the pastorate of her father.
A Divine Encounter took place
in 1984 in Tulsa, OK when she met a man who would impact her life and ministry forever.

 

The Most Reverend Benson A. Idahosa (pronounced Ede-hosa) of the Church of God Mission, Benin City, Nigeria, was a Father and a mentor, making a deposit of his principals and practices of ministry; and shared the mantle of his apostolic ministry with her until the Lord called him home in 1998. Because of his life, she has ministered in 28 nations of the world and foreign countries that are hungry for the Gospel of Christ: Nigeria, Zaire, Ghana, Kenya, Uganda, Venezuela, Caracas, Ireland, Australia, England, Brazil, Trinidad, Jamaica, Bermuda, the Bahamas, and others just to name a few.
Bishop Vaughn has submitted
in a loving and long relationship to Dr. John A Cherry as her Pastor (From the Heart Church and Ministry of Temple Hills, Md

.

) for over 22 years.
Apostle Vaughn was elected
and ordained into the Office of Presiding Bishop in 1999 over the International Outreach Go Tell It Ministry Worldwide Network of Churches, an Apostolic Reformation of 21st Century churches and Para-church ministries throughout the United States.

 

Go Tell It Ministry Network of Churches now provides oversight to over 70 churches and independent ministry gifts as well as

 

provides leadership training and structure development to more than 300 churches nationally and thousands internationally.
Dr. Vaughn is the founder
and Chancellor of Kingdom and Faith Bible College in Detroit, MI.; a two-year training school for ministers and church leaders.
Dr. Vaughn is married to
Dr. Gilbert Vaughn; they have four beautiful, gifted children and five grandchildren. Also, there are multiple thousands of sons and daughters in the Body of Christ that know her as a Mother in Zion.
Bishop Corletta J. Vaughn is among the great company of last-day apostles, sounding the trumpet of Biblical Reformation calling the Church of Jesus Christ back to holiness with an authentic demonstration of the Holy Ghost.
Monday July 2 2007, 1:00 PM
@ Genesis Worship Center Church - 1818 29th Avenue N - St....
Three Great Events All At One Time For Maximum Spiritual Benefits The Entire Week - A great time of Impartation, Worship, Training and Fellowship. Training for Church Leadership, Youth Sessions, Partners Homecoming. Special Family Day activities on July 4th - including a Luau Celebration 4-8 pm. Bring your entire family for the week! visit www.gotellit.org to register and obtain more details
Tags